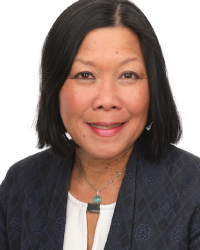 Anna Fung has practiced law in British Columbia for more than 34 years, 21 of which she served as corporate counsel at three large Canadian corporations.
Anna was appointed as a British Columbia Utilities Commissioner in 2018 and as Deputy Chair in 2019, after serving as Vice President, Legal & General Counsel for TimberWest Forest Corp., where she also served as its inaugural Chief Ethics Officer. From 2009-2011, Anna was Counsel and Chief Privacy Officer at Intrawest ULC and, prior to Intrawest, served as Senior Counsel and Chief Privacy Officer at Terasen Inc., for 15 years.
She is the Chair of the BC Unclaimed Property Society and has served as President of the British Columbia Law Society, Canadian Corporate Counsel Association, People's Law School, Association of Chinese Canadian Professionals and BC Autism Association. She is a past a director for Vancouver Airport Authority, the Vancouver Foundation, the BC Law Foundation, the Continuing Legal Education Society, Westcoast LEAF, the Canadian Bar Association and Arts Club Theatre Society.
In 2012, she received the UBC Allard School of Law Alumni Association Award of Distinction. She has been a member of the Dean's Advisory Committee for the Centre for Business Law at the Allard School of Law since its inception and served on the alumni UBC Advisory Council from 2013-2018.