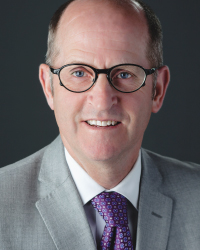 Ross Langford graduated from UBC in 1989 with Law and Commerce Degrees. Ross is actively involved in the UBC universe. Besides being on the Board, Ross is a member of the UBC Okanagan Athletic Scholarship Breakfast Committee, and was the Chair of the "start an evolution" Capital Campaign for the Okanagan campus.
As a Partner at Farris LLP, Ross provides business and strategic legal advice to a diverse group of businesses, business people, and institutional clients. His legal training is complemented by a finance and business background; he holds a Bachelor of Commerce degree and has completed both the Tax Practice Course from the Canadian Institute of Chartered Accountants and the Canadian Securities Course. Since 2016, Ross has been peer-rated as a leading corporate lawyer in Canada by the Best Lawyers in Canada Directory™.
His other business and charitable activities include two terms as Chair of the Economic Development Commission of the Central Okanagan; multiple terms as a Director and Executive Committee member of the Central Okanagan Foundation; many years as a Director of Pacific Safety Products Inc.; was a founder, Director and Executive Committee member of the Okanagan Science & Technology Council; a member of the Investment Advisory Committee of the Altura Growth Fund (EVCC) Inc.; a member of the B.C. Business Advisory Council for the Western Diversification Secretariat of Industry Canada; a Director of the Axel Merckx Youth Development Foundation; a Director of the Apex Freestyle Ski Club; a Director of the Kelowna-Scottsdale Business Council; and, a Director of the United Way. He is also a former President of the Kelowna Bar Association and contributing writer to Okanagan Business Magazine.