A collection of curated career development resources to assist you at all stages of your professional journey. Is there a  category or resource you would like to see here? Contact magdalena.blasiak@ubc.ca with your feedback.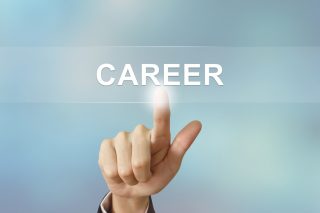 Interview Strategies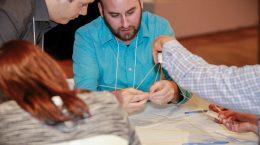 One tactic to drastically improve your interview performance is to include strong adjectives to accurately convey your accomplishments to an employer. Learn more about how to talk about leadership, passion and commitment.
Almost as beneficial as knowing what to say in a job interview is knowing what not to say. This collection of the worst things to say in a job interview will allow you to reflect upon how you present yourself to recruiters in your industry and how you would like to be viewed.
Employers use behavioural interview questions to gauge whether job candidates have the skills and experiences required for a position. Preparing and catering responses to such questions according to the Situation, Task, Action and Result (or STAR) technique allows you to reflect on past employment experiences in a constructive manner.
Whereas behavioural questions focus on past experiences, situational questions focus on hypothetical situations that may occur in the position. Recruiters often use such questions to gauge your problem-solving skills while on the job. Learning more about what these are and how to best prepare for such questions can help you be successful in a job interview!
While we may spend most of our time preparing responses to questions we might be asked at an interview, it is equally important to consider questions you may want to ask the employer. Refer to this list to begin thinking about what you would like to know before committing to a new role.
Fortunately (or unfortunately, depending on how you see it), not all job interviews are conducted in person. Whether the job you are applying to is in another locality, or the recruiter uses phone interviews to shortlist candidates for an in-person meeting, it is absolutely essential to practice the skill of being interviewed remotely. Read these 7 tips to help you succeed in your next remote interview.
Group interviews are becoming an increasingly popular method for interviewing potential candidates for a position. Learn more about what to expect at a group interview, and how to prepare appropriately for them.
Don't know how to prepare for an upcoming interview? If you are particularly looking for advice on the kinds of questions you may be asked, read these tips on how to answer the 31 most commonly-asked questions at interviews.
Back to Top
Resumes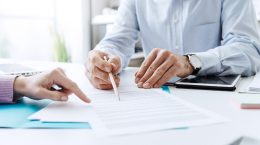 'Strong bullets will spice up your resume and help ensure that your content actually showcases your strengths, not just the boring tasks that you were assigned. And that's what'll help you stand out to hiring managers.' This is an excerpt of The Muse's guide on ensuring that your resume bullets are succinct, yet effective, in communicating your accomplishments to potential employers.
Its tempting to want to use certain 'buzzwords' in your resume to attract the attention of the recruiter. However, if used inappropriately, they can hurt your application. This list of 10 words and phrases to immediately remove from your resume is sure to leave you with some resume-editing homework!
Although top career experts recommend updating one's resume every six months to a year, we rarely make the time to make these changes. However, in order to ensure that your resume is reflective of the breadth of your experiences, make these five quick "spring cleaning" moves to clean up your resume.
We can't emphasize enough the importance of knowing which words, dates, personal information, and photographs can hurt (rather than help) your resume. You can find the list of not-to-include items here.
Whether you are a novice designing your very first resume, or an experienced professional who is looking to make specific revisions, these 7 easy steps are catered your respective resume needs.
If you're having trouble synthesizing your past employment experiences in your resume, this list of employment skills will facilitate your process. Whether you are a biomedical engineer or a speech pathologist, you are sure to find what you need here.
6 essential resume writing tips to help you create or update a winning resume.
This resource will help you decide what is (and isn't) appropriate for the skills section of your resume. Learn the difference between hard vs. soft skills, job specific vs. transferable skills, and where to include each of these in your resume.
Even with an impressive list of accomplishments, failing to proofread your resume can hurt your chances of making a positive impression on the employer. Refer to this resume proofreading checklist to polish your document.
Back to Top
Career Transitions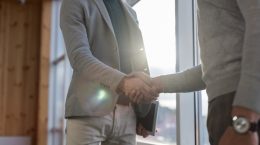 Are you contemplating shifting career trajectories but don't know this is the right time to go through with the change? Allow this blog post to provide you with important considerations to keep in mind as you navigate a career transition at a later stage of your professional life
At different points in your professional life, you may encounter a new opportunity that would enable you to change your career trajectory. Allow these five questions to accompany your decision-making process when at a "career crossroads."
Feeling stuck in a career but don't know what other opportunities may be available for you? Informational interviews are a great way to learn more about an industry that you are potentially interested in working for. Read the UBC guide to informational interviews here.
Program Manager turned Career Coach, Gloria Eid shares her reflections on her 10 month career pause and what she discovered about facing big career-related changes in this podcast!
Perhaps one of the biggest challenges when navigating a career transition is knowing how to advertise your skills in a job application. BC Jobs' advice on how to tailor your resume to be more skill-focused, as opposed to experience-focused, is a useful resource as you learn to market yourself in a new industry. 
If you are navigating a career change, it is often beneficial to get assistance from professionals at employment agencies. Learn more about the many ways through which an employment agency can help you on your path to a successful career transition.
When moving from one professional industry into another, the biggest asset you carry with you are your transferable skills. Take a glance at some of the most valued transferable skills and get inspired to continue building your professional skill set!
Sometimes you need a little push to make a career transition that you have been contemplating for a while. Allow these 9 career change stories from the Muse fuel your motivation and inspire you to take a career-related leap!
Back to Top
Advice for Millennials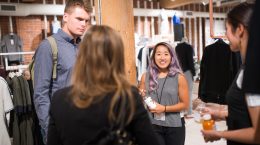 Refer to this example of a resume by a recent college graduate for direction on how to leverage your strengths and how to strategically include unpaid internships and volunteer work.
Salary negotiation is always daunting, especially the first time around. Follow these seven simple tips to help you stay calm and negotiate a salary and benefits package that appropriately suits your needs.
Starting out your professional career and not really certain on where you fit in with your colleagues? Leanne Morgan's reflective blog post on advice for millennials starting out their careers, especially as it pertains to age differences within a company, is an excellent read for those learning to navigate this for the first time in their professional careers.
So, you recently landed an internship. Whether you view this as a great short-term learning opportunity or see yourself working long-term at the company, this list by the Harvard Business Review highlights six ways you can make the most of your internship experience.
If you have recently graduated and are in the process of finding your first "real job," chances are that your interview questions will heavily pertain to the degree you just completed. This list of commonly asked questions for newly graduated job-seekers is an excellent resource, as you prepare for your job interview.
Not sure if you have the experience necessary for a job that interests you? This guide can help you determine whether your lack of experience can be made up for by an ability to learn quickly and the recommendations of strong referrals.
Are you are new to the job market and don't know where to start building your professional career? Refer to these tips for recent college graduates to help kick start your career in the right direction! From creating your online personal brand, to using your professional networks wisely, this list is sure to leave you with constructive short-term career goals to work on.
Back to Top
Dress for Success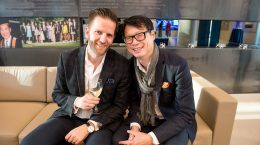 Learn more about the varying types of dress codes to find the right fit for your industry.
Knowing the boundaries of a 'casual' dress code at an interview or workplace is essential to creating a positive interaction in the work environment. Learn about the varying degrees of appropriate casual attire.

Even if your place of work has no official dress code, it doesn't not mean anything goes. Get inspired on what to wear to work when there is no dress code.
Follow Harvard University's Career Services' Pinterest for tips on dressing professional for men, women and those identifying beyond the binary.
For gender queer and non-binary individuals, allow Macalester College's Career Development Centre to inspire your professional wardrobe.
If you're in Vancouver and would like a one-on-one meeting to discuss how to align your personal style with your professional goals, book an appointment with the city's leading Image Consultants. Katherine Lazaruk, owner of ICU Image Consulting, will help you look the part for your next career event.
Back to Top
Salary Negotiation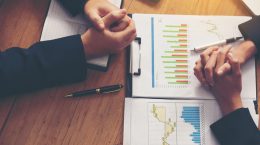 Not knowing whether it's an appropriate time to negotiate your salary can be daunting. Read this piece to help you gauge when the time is right to have that discussion with your employer. 
Research shows that employees who negotiate their salary in a constructive and positive way are perceived more favourable than those who do not demonstrate these negotiation skills. Refer to this step-by-step guide to negotiating a great salary even before the first interview, and again at the time of offer.

Maximize your odds of having a successful salary negotiation with your employer by learning how to facilitate a discussion regarding what an acceptable salary for your skills and experience should look like.
Not knowing whether it's an appropriate time to negotiate your salary can be daunting. Read these tips to help you gauge when the time is right to have that discussion with your employer.
The Harvard Business Review's rules for negotiating a job offer cover everything from the power of likability to understanding company's constraints. Make sure you refer to this resource before having that conversation with your new boss.
Back to Top
Networking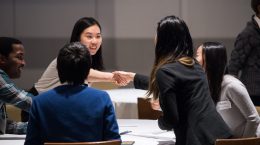 Do you feel like you are doing your part with networking and not getting the results you expected? Learn more about shifting the focus from the interviewer onto the interviewee to facilitate the process of building strong professional relationships with individuals in your respective industry.
Although building a strong professional network always requires time and patience, this process can be especially difficult for those who have recently moved into a new city or country. These networking tips are especially catered towards those individuals who are wanting to enter the Canadian job market.
Are you more of a visual learner? If so, refer to this chart illustration of the 5 most essential networking tips to help you succeed!
Back to Top
Managing Your Online Brand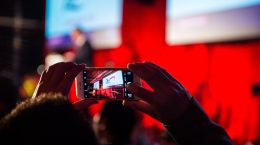 The "fishbowl effect" refers to how the actions of leaders are observed and interpreted by their colleagues in the professional world. Whether you are sending out job applications for a new job or leading a company, it is crucial to maintain a professional online presence to get out of the proverbial "fishbowl."
The 21st century brings with it the ability to virtually learn and connect with anyone in the world. Leading career coaches recommend establishing an online brand on social media platform, to help distinguish yourself from others in the same professional industry. Allow this guide to help you establish your brand on LinkedIn, the "professional Facebook" of today.
Already have a LinkedIn account but don't know how to effectively utilize it as a job seeker? These tips will help you be successful in using this social media platform to effectively connect and engage with potential employers in your industry.
For Forbes contributing writer and LinkedIn Influencer Liz Ryan, a "fatal mistake" that a majority of job-seekers make is to branding themselves too broadly. Read her advice on the importance of creating a personalized brand that is specifically catered towards the work that you are interested in doing.
Want to learn how to use social media to get noticed by top recruiters and others in your professional industry? This article provides advice on how to do this by making strategic connections online and using different mediums for communicating your message to others.
Explore the art of personal branding by looking at the ways in which some of the most well-acclaimed celebrities have made, and maintained, a name for themselves. This blog post is a must-read for any new career builders, who are looking to develop a unique brand for themselves and their work.
Does the thought of creating a personal or professional brand intrigue you? If so, indulge in any (or all, if you're ambitious!) of these six books to learn more about building credibility in your industry through personal branding.
Back to Top
Navigating Difficult Conversations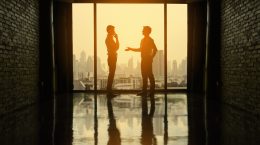 Having difficult conversations at work is daunting and if conducted poorly, can negatively impact the work environment. Following this formula for navigating hard conversations at work can help ensure better communication with your colleagues and supervisors, which is extremely conducive a positive and respectful work environment.
Every 1 in 5 individuals in Canada suffers from some type of mental illness, which can severely impact performance at work. Although disclosing a mental health concern to your employer may seem like a daunting task, it can pave the way for appropriate accommodations to ensure that you have a positive and supportive work environment. Mental Health Works, a national social enterprise of the Canadian Mental Health Association, has important tips as you navigate your way to this disclosure.
The Human Rights Campaign highlights a variety of potential advantages and disadvantages of coming out as transgender at your place of work. If you identify as transgender and are considering disclosure, these are important considerations to keep in mind before you make the decision about if and when to do this!
The Harvard Business Review forum has useful tips on navigating the three types of difficult conversations that occur in the workplace. The trick is to maintain your composure, and always be respectful.
It's easy to get carried away in awkward or difficult conversations. The Harvard Business Review has outlined eight tips to help you keep the conversation from going off the rails.
Back to Top