Canada has a reputation for being a welcoming destination for new immigrants and refugees. However, this reputation is not always reflected in the reality these newcomers face in British Columbia. Gaps exist in terms of education, healthcare, employment and social services, and new immigrants often face real struggles accessing the support they require. Hear from our panel of UBC and community experts online as they discuss the barriers that exist for new Canadians and explore the ways that BC and Canada can better support these individuals and families.
Presented in partnership with the UBC Faculty of Education.

Moderator
Michelle Eliot, BA'98 – Host, BC Today, on CBC's Radio One
Panelists
The Honourable Janet Austin, OBC – Lieutenant Governor of British Columbia
Chris Friesen, BA'88 – Director, Settlement Services, Immigrant Services Society of BC (ISSofBC)
Amira Halperin – Sessional Lecturer, UBC Department of Sociology
Guofang Li – Professor and Canada Research Chair in Transnational/Global Perspectives of Language and Literacy Education of Children and Youth in the Faculty of Education, UBC
Danny Ramadan – Author, Public Speaker, LGBTQ- Refugees Activist
This webcast took place November 2, 2020.
Video
View the webcast recording here.
Speaker Biographies
Michelle Eliot, BA'98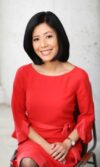 Michelle Eliot is the host of CBC Radio One's BC mid-day open line show, BC Today. Michelle is an award-winning journalist with CBC Radio One, and has become a familiar voice as a regular guest host on regional and national programs, interviewing community members and prominent politicians, as well as authours and musicians such as Douglas Coupland and Bif Naked. But her true passion is for the open line, where her skill at engaging callers probes further into their viewpoints and digs deeper into their personal stories.
Her work has been recognized by the RTDNA and the Jack Webster Foundation, winning awards for her team's coverage of the ongoing overdose crisis and the 2017 NDP and Green Party deal. She has also received nominations for her story about immigrants learning to swim later in life and for her profile of a well-loved woman in Vancouver's Downtown Eastside who died of an overdose.
Michelle was born in the Philippines and moved to Canada with her family at 12-years old, settling in North Vancouver. Her experience as a young immigrant planted the seed of understanding for people whose lives are changed by new circumstances.
She studied English Literature at the University of British Columbia and went on to study Broadcast Journalism at the British Columbia Institute of Technology before joining CBC Vancouver in 2000.
Michelle is married with two children. She enjoys joining community events like the Vancouver Sun Run and the Pride Parade. As the parent of a child with special needs, she also likes to participate in events in the disability community.
The Honourable Janet Austin, OBC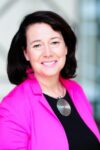 The Honourable Janet Austin was sworn-in as the 30th Lieutenant Governor of British Columbia on April 24, 2018. Prior to this appointment, she spent 15 years as Chief Executive Officer of YWCA Metro Vancouver, one of the province's largest and most diversified non-profits. There she oversaw operations delivering services to tens of thousands of people annually at more than 40 locations.
Under Her Honour's leadership, the reach and scope of services offered by the YWCA increased significantly and flourished under the social enterprise model she championed. Using solutions-oriented and collaborative advocacy, she positioned the YWCA as a leading voice on women's equality. She fostered relationships with non-profits, business communities and all levels of government to contribute to policy changes at the federal and provincial levels to improve the lives of women, children and families.
Her Honour has actively volunteered for many organizations in commitment to helping improve the lives of others. She has served on the boards of TransLink, the Greater Vancouver Board of Trade, the Canadian Paediatric Society, the Council for Early Child Development, the Women's Health Research Institute, MOSAIC and the Dr. Peter AIDS Foundation. She has been a long-time volunteer with United Way of the Lower Mainland and has served on the BC Provincial Advisory Council on Social Entrepreneurship, the City of Vancouver Healthy City for All Leadership Council and the Organizing Committee for the National Retreat for Women.
Her Honour is Chancellor of the Order of British Columbia and was invested as a Member of the Order in 2016. She holds an Honorary Doctorate of Laws from Kwantlen Polytechnic University.
Raised in Calgary, Alberta, Her Honour is a graduate of English from the University of Calgary. She spent her early career in public sector roles in Calgary, working in regional planning and public consultation and communications for the Alberta government. She eventually moved to British Columbia, where she began working with BC Housing and discovered her passion and aptitude for public office. Prior to joining the YWCA, Janet served as Executive Director of Big Sisters of BC Lower Mainland.
Chris Friesen, BA'88

Chris Friesen is a recognized mover and voice within the refugee and immigrant settlement sector and is a sought-after speaker, media resource person and research collaborator on immigration-related policies and programs.
As Settlement Services Director at ISSofBC for over 25 years, Chris has been at the forefront of major immigration and refugee resettlement initiatives in BC and Canada in recent history, including the unprecedented resettlement operation involving Syrian refugees in 2015-2016. Chris also played a key role in the development and construction of the ISSofBC Welcome Centre.
Chris currently serves as chair and founding member of the Canadian Immigrant Settlement Sector Alliance (CISSA-ACSEI), and is co-chair with IRCC of the National Settlement Council. In 2013, he co-chaired the UNHCR Annual Consultation on Refugee Resettlement in Geneva, Switzerland as the NGO focal point.
As an undergraduate student at UBC in the mid 1980's, Chris led a successful referendum on campus to increase student fees to establish a permanent student refugee scholarship program. What started as a one-off initiative has rippled through over 60 post-secondary institutions across Canada through the World University Service of Canada (WUSC) Student Refugee Program.
Amira Halperin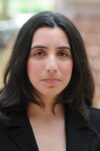 Dr. Halperin is an expert of immigration and media, researching Middle Eastern refugees and asylum seekers for the last 15 years, working from a community-base and using participatory methodology and an interdisciplinary approach. Amira consulted to the British Parliament on migrant communities in United Kingdom.
Her current research focuses on the impact that social media and communication technologies have on the integration of Middle Eastern refugees to Canada. It explores digital threats, fake news and disinformation. The research draws on interviews with refugees, NGOs and government officials. Her research partners are the cybersecurity company, Cyabra, and MOSAIC, one of the largest immigrant settlement organizations in Canada. Her work includes examination of government policies to better understand how Canada's refugee system operates. The aim of the research project is to write recommendations for Canadian and BC Provisional government.
She holds an MA in International Journalism (Broadcast), and PhD in Communication and Media from University of Westminster, United Kingdom. Amira conducted pioneering research on the impact of the new media on the Palestinian community, both in the Middle East and in the Diaspora. In 2018, her book: 'The Use of New Media by the Palestinian Diaspora in the United Kingdom', was published, and has been reviewed as a breakthrough research.
Amira worked as an Investigative Journalist and Television Reporter. The highlight of this route was her work on BBC 'Panorama' – the longest running current affairs program, researching the integration of the Muslim community in Britain. Dr. Halperin presents her research at international academic conferences, international organizations, and governments and appears regularly on the media as a commentator.
Guofang Li

Guofang Li is a Professor and Canada Research Chair (Tier 1) in Transnational/Global Perspectives of Language and Literacy Education of Children and Youth in the Department of Language and Literacy Education, Faculty of Education, University of British Columbia, Canada. Her recent research interests are longitudinal studies of immigrant children's bicultural and bi-literacy development through the educational systems, immigrant children's new literacies practices in and out of school, technology-infused ESL/EFL instructional approaches, diversity and equity issues, and teacher education and professional development for culturally and linguistically diverse children and youth.
As one of the leading scholars in the field of second language and literacy education, Li has published 12 books and over 100 journal articles and book chapters in English and Chinese, and presented over 100 papers worldwide. Li is the recipient of numerous national and international awards including the 2013 and 2006 Ed Fry Book Award of the Literary Research Association (LRA) (formerly the National Reading Conference), the 2011 Publication Award from ACPSS, the 2010 Early Career Award at American Educational Research Association (AERA), and the 2008 Division G Early Career Award of AERA.
Danny Ramadan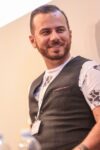 Danny Ramadan is a Syrian-Canadian author, public speaker and LGBTQ+ refugees activist.
The Clothesline Swing, Ramadan's debut novel, won the Independent Publisher Book Award for LGBT Fiction, The Canadian Authors Association's award for Best Fiction, and was shortlisted for Evergreen Award, Sunburst Award and a Lambda Award. It was long listed for Canada Reads 2018. The novel is translated to French, German and Hebrew. His children book, Salma the Syrian Chef, is released in March 2020 by Annick Press. He is currently working on his next novel, The Foghorn Echoes, a collection of short fiction, The Syrian Survival Notebook, and a YA novel, Son of the Silk Maker.
He was named among the Top Immigrants to Canada 2017 as well as awarded the Mark S. Bonham Centre for Sexual Diversity Award for Excellency. Ramadan was selected as the Writer in Residence for the Saskatoon Public Library between September 2020 and May 2021.
He graduated (officially in November 2020) with a Masters in Fine Arts – Creative Writing at UBC and lives with his husband, Matthew Ramadan, in Vancouver.