Mapping out modern morality
As our world rapidly evolves with social changes, new technologies, and other developments, how do we apply morality to emerging or unprecedented situations? Forward thinker and moral navigator Dr. Azim Shariff draws upon scientific data and moral psychology to explore topical questions we don't yet have answers to. As religions recede, what will replace them? How will self-driving vehicles make ethical decisions about potential risks on the road? Explore these complex issues at this webinar that will delve into morality, modernity, cultural attitudes, and more.
Want a preview? Watch Dr. Azim Shariff's talk from the September 24, 2022, THINK FORWARD event.
Speaker
Dr. Azim Shariff, MA'06, PhD'10 (he/him/his) — Professor and Canada 150 Research Chair of Moral Psychology, Faculty of Arts, UBC
Thursday, March 9, 2023
12:00–1:00pm PT
Online
Open to all UBC alumni and friends. Registration is required.
REGISTER NOW
Questions? Please contact alumni.events@ubc.ca.
Speaker Biography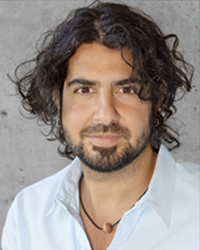 Dr. Azim Shariff is a professor and Canada 150 Research Chair at University of British Columbia, where he directs the Centre for Applied Moral Psychology. His research on morality, religion, politics, and technology regularly receives international media coverage, and has appeared in top academic journals. He has written for The New York Times and Scientific American, and has spoken at the Aspen Ideas Festival and World Science Festival in New York. He is a fellow of the Association for Psychological Science, and a Kavli Fellow of the National Academy of Sciences. He teaches a free Massive Online Open Course (MOOC) on The Science of Religion for the public through edX.