The summer of 2021 brought unprecedented temperatures to BC, indicative of a warming trend that is undeniable. As we all adapted our routines in an attempt to find relief from the heat, the sea life living along BC's coastal margins did not have that luxury. The combination of shoreline temperatures above 50 degrees Celsius and low tides led to a massive die-off amongst seashore animals along the Salish Sea coastline. And this is just one symptom of ongoing changes to BC's marine waters and their ecosystems. As summers become warmer, and climate change ever-present, shocking events like this may become a regular occurrence.
Join fellow UBC alumni for a virtual discussion with leading UBC experts as they take a deep dive into the impact of this summer's heat dome, the current state of sea life in the waters surrounding Vancouver Island, and what we might expect for the health of the Salish Sea in future years. How will an ever-warming world impact our local waterways, and how can we all support a better future in our own backyard?
Moderator
Kathryn Marlow – Reporter, CBC Victoria
Speakers
Dr. Christopher Harley (he/him/his) – Professor, Zoology and Institute for Oceans and Fisheries, UBC
Dr. Debby Ianson, MSc'94, PhD'01  (she/her/hers)– Federal Research Scientist, Institute of Ocean Sciences; Adjunct Professor, University of British Columbia, Simon Fraser University, and University of Victoria

Tuesday, November 30, 2021
12:00-1:00pm PST
Open to everyone. Registration is required.
Questions? Please contact alumni.events@ubc.ca.
Speaker Biographies
Kathryn Marlow
Victoria, BC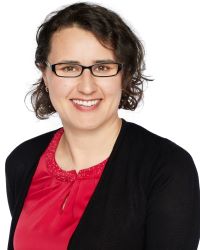 Kathryn Marlow is a reporter at CBC Victoria, where she covers stories in B.C.'s capital city and across all of Vancouver Island, the Gulf Islands and the Sunshine Coast. She is also a regular guest host on several CBC Radio programs, including Victoria's afternoon show All Points West which she hosted for 18 months throughout the height of the COVID-19 pandemic.
Kathryn has explored a wide range of stories in her career as a journalist at the CBC in Vancouver, Kelowna and Calgary. Among them: Indigenous language revitalization, the lasting effects of strikes in logging communities, and how the renaming of the Salish Sea had both social and scientific impact.
Kathryn was born and raised in the Lower Mainland. Today she is incredibly grateful to live on the B.C. coast and spends as much time as possible wandering in the forest and soaking up ocean views. Kathryn loves to read and enjoys volunteering as a tutor with the Victoria Literacy Connection.
Dr. Christopher Harley
Vancouver, BC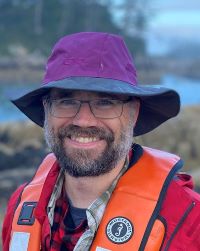 Chris Harley has been studying coastal marine ecosystems along the west coast and around the world for over 25 years. He completed his PhD at the University of Washington in 2001, and spent several years as a postdoctoral fellow at Stanford University and the University of California, Davis.
He joined the faculty at the University of British Columbia in 2005, and he is currently joint-appointed in the Department of Zoology and the Institute for Oceans and Fisheries. He and his students are interested in how marine ecosystems are changing and why. They study the ecological impacts of gradual warming, sudden heatwaves, ocean acidification, and changes in salinity. They are especially interested in how biodiversity is changing as a result, and how certain key species can speed up or slow down ecological change driven by human activities. When Chris is especially lucky, his kids come with him down to the shore.
Dr. Debby Ianson, MSc'94, PhD'01
Sidney, BC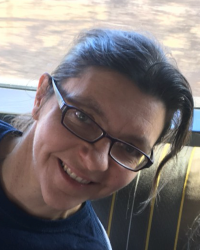 Debby Ianson is an interdisciplinary oceanographer whose research combines field work with modelling to investigate biogeochemical cycles along continental margins and their influence on the global ocean and vice versa. She focuses on the impact of climate change on these cycles and on marine ecosystems. For example, the ocean is changing the way that it "breathes" – affecting levels of oxygen and carbon dioxide, both critical to ecosystem health.
Her deep interest in natural systems began early. After an undergraduate degree in engineering physics (Queens University), she realized the need for quantitative skills to study the ocean and hasn't looked back. Dr. Ianson completed her graduate work at UBC (MSc. Physics, then PhD. Oceanography) and a postdoctoral fellowship at Texas A&M University and the Southampton Oceanography Centre. After that, she returned to the west coast of Canada where she has enjoyed broadening her research, including participation in the West Coast Ocean Acidification and Hypoxia Panel convened by the California Ocean Science Trust, and getting into and on the ocean whenever opportunity allows.