Patrick Cheng: The Faithful Advisor
"Students do pick up a lot from me. But at the same time, I learn a lot from them, too. It's a two-way street."
Life was a little different for budding engineers when Patrick Cheng was a student at UBC.
It was the early 1980s. Patrick recalls doing his own programming, writing out code on punch cards, taking a stack of cards to the only mainframe computer available to students, running them through the machine and receiving a sheet of errors in return.
"Then we had to take the sheet, go to the corner of the computer science room, and decode all the errors. We had to go through every sentence on every card.," says, Patrick, who eventually opted to specialize in mechanical engineering.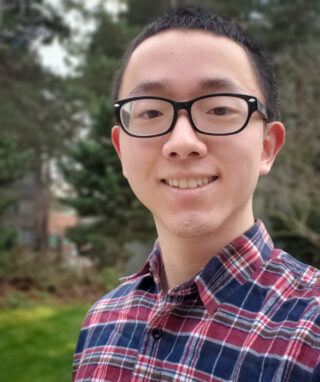 Needless to say, the technology—and the world freshly minted engineers graduate into—has changed immensely since Patrick graduated in 1983.
But he's adamant that one thing hasn't changed since he was a student: the incredible amount of hard work and high level of excellence displayed by UBC engineering students. It's their determination that has inspired Patrick to be a mentor for nearly two decades. He started volunteering in the Engineering Tri-mentoring program when it was introduced in 2003. He remains committed to the program despite having a wide-ranging career beyond the field, including earning an MBA, starting a global non-profit platform called "A Planet Without Borders" and writing an upcoming book of the same name, earning a real estate license, and working as an actor and professor.
In that time, he's mentored dozens of students—faithfully volunteering to connect with two to three students every year. "I just feel that mentoring is an excellent concept," he says, noting a lack of similar programs during his own student days. "I enjoy being able to share my real-life work experience, skills, knowledge, and resources."
He particularly enjoys helping first-year students figure out the all-important question of which type of engineering to specialize in. "I ask them to think about their favorite subject, and to let that guide their career path and the discipline they go into. Not the potential paycheck," he says.
Ethan Sun is a third-year Manufacturing Engineering student at UBC and one of Patrick's many mentees over the years.
"I would say interacting with UBC alumni volunteers has significantly improved my confidence and ability to connect with people," he says. "By the end of the year, I had learned a great deal of what I might expect to see when I graduate and what I can do to overcome challenges." Ethan notes that Patrick's advice, in particular, has been important as he looks toward his future: "Do what you want to do and fulfill your dream." He sees himself following in his mentor's footsteps one day, as a volunteer. "I would love to share my experience and guide the new undergrads. Knowing that someday the students I help will achieve their success in life cheers me up," he says.
Published April 26, 2021.