You can get in touch with your Alumni Association by contacting one of our offices in Vancouver, Okanagan or Hong Kong, listed below. To get a hold of one of the members of our staff, please view the UBC Directory listing.
---
Office Locations
We have offices at the following locations:
UBC, Point Grey Campus
The Wong-Trainor Welcome Centre in the Robert H. Lee Alumni Centre is the first stop for alumni and visitors to campus. Our friendly staff and volunteers will be happy to answer your questions and offer suggestions for your campus visit.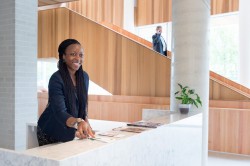 The Robert H. Lee Alumni Centre
6163 University Blvd
Vancouver, BC V6T 1Z1
Email: alumni.ubc@ubc.ca
Tel: (604) 822-3313
Fax: (604) 822-8928
Toll Free Tel: 800-883-3088
Toll Free Fax: 800-220-9022
UBC, Okanagan Campus
The University of British Columbia
1138 Alumni Ave, ADM 103
Kelowna, BC V1V 1V7
Tel: (250) 807-9360
Email: ok.alumni@ubc.ca
Hong Kong
Room 1202, 12/F Lee Garden Six
111 Leighton Road, Causeway Bay,
Hong Kong
Mei Mei Yiu, Director, Alumni & Development, Asia Pacific Regional Office
Tel: 852-2111-4403
Fax: 852-2111-9532
Email: meimei.yiu@apro.ubc.ca