Continue Your Passion for Learning
Go beyond the bucket list for unique travel experiences
Expert UBC study leaders
Meaningful local experiences
Thoughtful itineraries
Best value in educational travel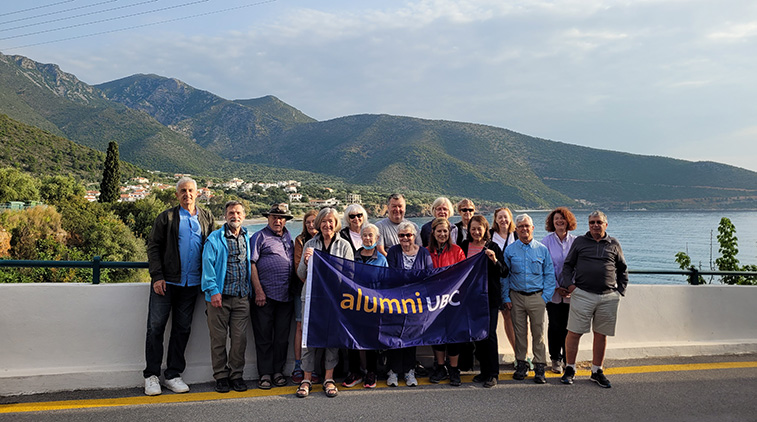 Find your next travel experience
Active & Wellness | Nature & Wildlife | Food & Wine | Arts & Culture
*You will be directed to the website of our partner, Worldwide Quest.
---
Sign up for the Travel Club newsletter
Be the first to know about upcoming trips!
UPCOMING TRAVEL CLUB WEBINARS
Dissecting Master Art Works of Venice with Justin Newell
Tuesday, October 4, 2022
11:00 am-12:00 pm PT
Germany: The Country with Too Many Capitals, with Chris Friedrichs
Thursday, October 6, 2022
11:00 am-12:00 pm PT
"Walk This Way!" with Coach Lynn Kanuka
Tuesday, October 11, 2022
11:00 am-12:00 pm PT
---
RECENT TRAVEL CLUB WEBINARS
The Power of Nordic Urbanism with Larry Beasley
Wind, Waves and Wings: Seabirds of the Southern Ocean with Catherine Jardine
Classical Art & Architecture in Venice & the Veneto with Justin Newell
Ships, Satellites and Super-Computers: How We Understand the Southern Ocean
Ecology of the Galapagos Islands with Chris Harley
The Rise of Malbec Wines from Argentina with Howard Soon
Get Fit for Home and Travel with Stretches and Healthy Snacks, with fitness coach and walk leader Marisa Mae
Explore the World's Largest Buddhist Temple – Indonesia's Borobudur Temple with UBC lecturer Paula Swart
Inside Japan: Tradition & Modernity with Paula Swart
---
NEED TRAVEL INSURANCE?
For travellers residing outside of Ontario, Manulife Travel Insurance is now available through alumni UBC. Please click here for more information and to protect your travel investment.
---
QUESTIONS ABOUT THE TRAVEL CLUB?
Please contact Karen Kanigan at karen.kanigan@ubc.ca or (604) 822.9629.