UBC alumni live and work in over 150 countries around the world. We keep in touch with those grads – and they keep in touch with each other – through our Global Alumni Network. We have a number of Alumni Leadership Committees and Global Alumni Ambassadors who help represent alumni UBC in cities around the world and strengthen the alumni community in their region. They are available to answer local questions you may have, and they help bring fellow alumni together through virtual or in person gatherings, and other types of initiatives, too.
Look for your local contact below, or reach out to the alumni UBC team to explore openings in your region.
Another option for meeting other UBC grads in your area is to host or attend a My Town Meetup. These get-togethers provide opportunities for alumni living outside our campus communities in the Lower Mainland and Central Okanagan to find each other and build their networks over a meal or coffee, or virtually over Zoom.
To get the most relevant information for your region, including event invitations, please update your address.
For more information on additional ways to keep in touch with UBC wherever you may be, check out our list of Top Ways to Stay Connected with alumni UBC!
---
Global Ambassadors (By Region)
Click on your region to find your nearest global alumni ambassador.
---
DO YOU WANT TO REPRESENT ALUMNI UBC IN YOUR REGION?
You could get involved as a Global Alumni Ambassador or a Social Media Ambassador!
The ideal Global Alumni Ambassador is interested in getting to know fellow alumni in their region, and in strengthening the UBC alumni presence where they live through communications, virtual or in person gatherings, and other community building initiatives.
The ideal Social Media Ambassador is active on social media and has an interest in helping alumni connect via virtual platforms, and facilitating online communities in their region.
Reach out to the alumni UBC team at global.alumni@ubc.ca to find out more!
Global Alumni Ambassador Spotlight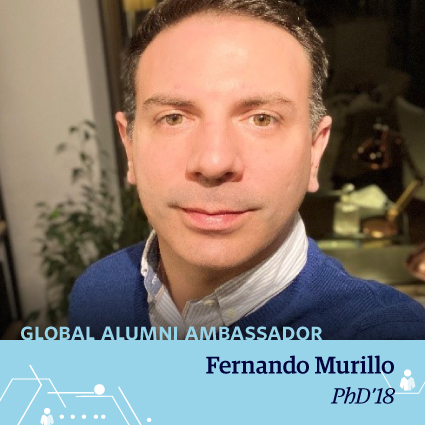 Fernando Murillo, PhD'18 – Chile
Fun Facts
Intrepid hiker (including arriving to the top of an active volcano)
Chinese food lover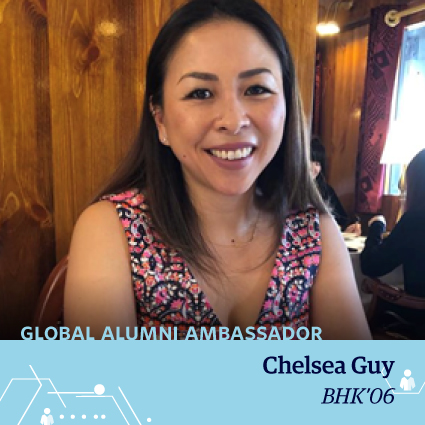 Chelsea Guy, BHK'06 – Singapore
Fun Facts
My first name is actually Elizabeth, even though I've always been called Chelsea because my parents wanted my first name to be formal. My full name is Elizabeth Chelsea Guy.
My last name is actually supposed to be Ngai. When my grandfather immigrated to Canada from China, he told the immigration officer what his last name was. He interpreted it as Guy, so we are the Guys in Canada!
I have two labradoodles – one caramel and one chocolate coloured.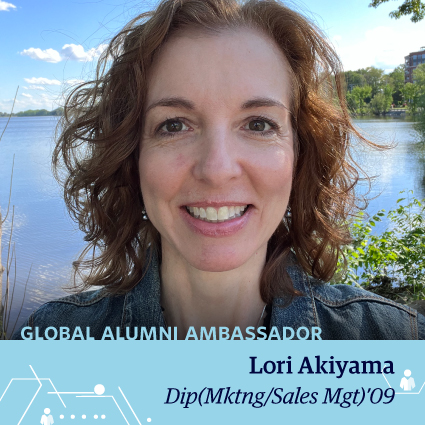 Lori Akiyama, Dip (Mktng/Sales Mgt)'09 – Montreal
Fun Facts
Living in Montréal since 2018
Work in the Gina Cody School of Engineering and Computer Science at Concordia University
Enjoy discovering little neighbourhood gems like cafés, shops, markets in my adopted city
I'm a Duolingo enthusiast and use it to learn both French and Japanese