The Student Alumni Council (SAC) is a team of students dedicated to connecting students with alumni and building lifelong connections with the UBC community. Members of the SAC develop original programs, collaborate with campus partners, and promote UBC's alumni network on campus as student representatives. The SAC is supported by alumni UBC, the university's alumni association.
UBC Student Alumni Council – 2023/2024
Executive Members
Helia Moghaddam, Arts, 4th year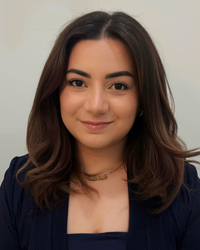 Helia is an honours Arts student studying English with an emphasis in Language and Literature. She is primarily interested in diplomacy, law and language studies and currently serves as a tutor for the Autism Funding Unit. Helia has been involved in the SAC since her first year, starting as a First-Year Representative, and continuing in coordinator and Vice-President roles. She is an active member of the UBC community, participating in the UBC orientation program as a Collegia Advisor and Orientation leader, and exercising her passion for leadership as Concurrent Director of the 2023 Student Leadership Conference.
Andrew Feng, Science, 5th year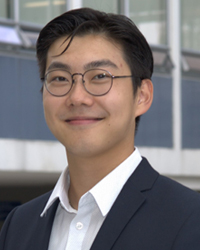 Andrew is passionate about community engagement and student support. His commitment to these values is evident through his roles as Associate Vice-President Academic & Internal and as Vice-President Internal for the Science Undergraduate Society. As Vice-President Internal for the SAC, he is thrilled to expand his advocacy efforts and make an even greater impact for UBC students. Beyond academics, Andrew is a Research Assistant at UBC Biofoundry and a Project Manager at UBC Multifaceted Innovations in Neurotechnology. Joining the SAC executive team is a privilege for Andrew, and he looks forward to building an inclusive and engaged campus community.
VICE-PRESIDENT, MEDIA PRODUCTION
Tanisha Kadia, Science, 3rd year
From Fort McMurray, AB, Tanisha is excited to bring a unique voice to the SAC and the UBC student body. With her previous experience on SAC, she strives to embody UBC's diversity and allow her love for science, arts, and community to guide future projects. Tanisha hopes to create more opportunities for first generation and international students to find their home at UBC, and make every student feel more connected to the university. Tanisha is looking forward to collaborating with her fellow SAC members and adding her thread to the UBC tapestry.
VICE-PRESIDENT, CAREER DEVELOPMENT
Sheila Lam, Science, 5th year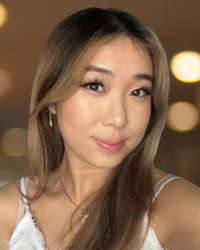 Throughout her degree, Sheila has been passionate about student empowerment and fostering a welcoming UBC community. She has served this passion as VP Internal for both the Science Undergraduate Society and the Heart & Stroke Foundation Club. Her other involvements include being President of the Vietnamese Student Association, volunteering at the Global Surgery Lab, and working as a research assistant at the Hippy Lab. Besides academics, she enjoys hiking, watching the sunset, and trying new food spots. Sheila is excited to work with the SAC to offer engaging career development events.
VICE-PRESIDENT, CAMPUS ENGAGEMENT
Rita Jin, Science, 4th year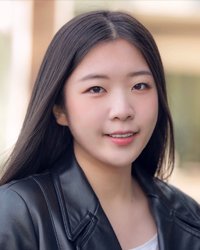 At UBC, Rita has actively taken on various leadership roles, notably as AMS VP Finance where she implemented subsidies to lower financial barriers to student engagement. Rita's passion for community building is evident through her involvement as a Senior Residence Advisor and Teaching Assistant, where she works to enhance student wellbeing. Academically, Rita loves exploring the multidisciplinary nature of science as a Research Assistant. Outside of school, Rita enjoys playing ultimate frisbee and making dents in her never-ending reading list! Rita is thrilled to be leading the Campus Engagement Team in amplifying campus traditions and fostering lasting memories.
---
Campus Engagement
Athina Law, Applied Science, 2nd year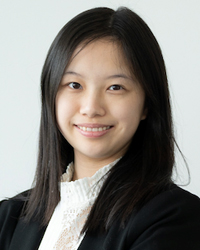 A busy engineering student by day and a voracious bookworm by night, Athina aims to unite her diverse interests in giving back to the UBC community, especially through empowering minorities in STEM. Athina has been involved with the Scholar's Community, organized events with Women in Engineering, presented workshops at the Student Leadership Conference and worked with design teams such as BEST and Thunderbikes. She looks forward to leaving her mark on the UBC community!
Emma Martin-Rousselle, Arts + MM, 3rd year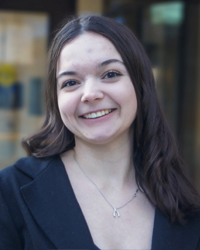 Since beginning her studies, Emma (she/her) has been driven to be involved with the UBC community in every way possible. She is in her third year, studying Sociology + Master of Management. Outside of the classroom, Emma is heavily involved in the Arts Undergraduate Society, now serving as President. She also works with Campus Tours, and is an Arts Co-op student, working as an Institutional Communications intern throughout summer 2023. Through the SAC Campus Engagement team, she hopes to help other students find community, just as she has through her own involvements.
Steven Xu, Applied Science, 2nd year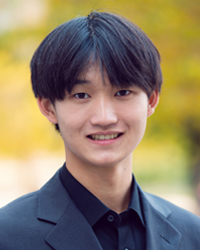 Steven Xu is a second-year student hoping to specialize in Computer Engineering. He is really looking forward to being part of the Campus Engagement team this year, as he loves organizing events and helping others get involved with UBC activities. In his first year, he volunteered as an EUS Red Sales Representative and as a DAE Ambassador. He also joined the UBC Sailbot design team, helping build software simulations. In his free time, he enjoys participating in intramural sports, playing the piano, and meeting new friends around campus. He is excited to get started with the SAC!
Kelly Zhang, Science, 4th year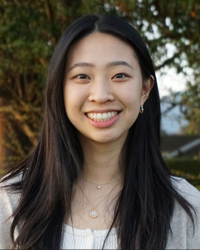 A defining moment in Kelly's time at UBC was being involved with UBC Orientations as a Collegia Advisor and a Senior Orientation Leader. Through supporting new students in finding their place at UBC, she found her own place in community building and fostering connections. Aside from school involvements, she also enjoys calligraphy, exploring the city, and learning new fun facts! Kelly is excited to continue growing her community building skills with SAC.
Samantha Wong, Science, 4th year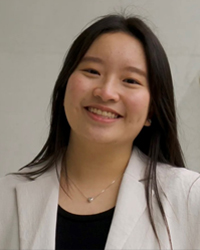 Sam is a 4th year Honours Microbiology and Immunology student. She has previously served as Vice-President Student Life for the Science Undergraduate Society and as a Jumpstart leader. In her free time, Sam enjoys visiting new restaurants and finding all the good cafes in Vancouver! She is very passionate about community building and event planning and she is eager to be a part of the SAC in the upcoming school year to connect more students and alumni within the UBC community!
Olyvia Guo, Science, 3rd year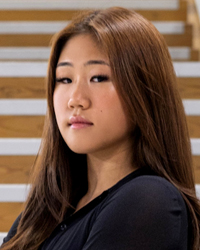 Olyvia has been with the SAC for three years, previously as a First Year Representative and a Campus Traditions member. Throughout her degree, her focus has been building community and spirit on campus. With her background as a high-performance student-athlete, she brings energy and new perspectives to the SAC. At age 17, she delivered a TEDx talk on mental health and self-advocacy. She also works at the maternity clinic of her local hospital, is an NCCP-trained coach, served as Policy Chair for the Young Liberals of Canada, and mentored pre-arrival youth to Canada.
Yeonsoo (Clara) Joo, Science, 3rd year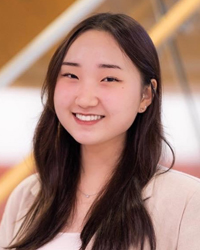 From Langley, BC, Clara (or CJ) is a third year student majoring in Microbiology and Immunology. She is beyond excited to join SAC as part of the Campus Engagement committee. In the past, you may have seen CJ as the "On Cam" person for the Science Undergraduate Society's productions content. This year, you can spot her active as a Science Peer Academic Coach or working with first years as a Residence Advisor on campus. Through SAC's campus engagement activities, Clara is excited to represent UBC at large.
---
Career Development
Carolyn Huang, Arts, 3rd year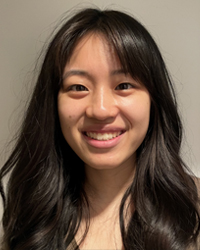 Originally from Edmonton, AB, Carolyn is passionate about community involvement. Carolyn is a member of the Computer Science Student Society, serves as a Teaching Assistant for CPSC 110 and CPSC 221, and is a Scholars Community Ambassador. In her free time, Carolyn loves to read, swim, and travel. Carolyn is excited to participate in her second year as a member of the SAC, and looks forward to supporting the student-alumni community at UBC.
Ben Westmore, Science, 4th year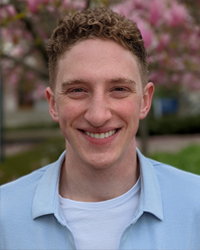 Originally from Winnipeg, MB, Ben is a fourth year student studying Behavioural Neuroscience with a Minor in Data Science. With previous experience in the Science Undergraduate Society and in the SAC's Student Engagement committee, Ben brings his passion for getting students involved to his new role in the SAC's Career Development committee. Outside of school, Ben is currently a research assistant at Providence Breast Centre, and his other interests include watching and playing sports, discovering new music, and enjoying the outdoors.
Linkai Liu, Science, 4th year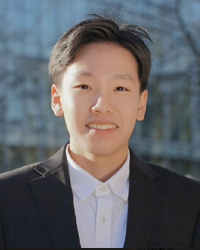 In his time at UBC, Linkai has worked in many career development associations, including as the Associate Vice-President External at the Science Undergraduate Society. He is passionate about supporting interfaculty events and networking activities to help students connect with their peers, regardless of their discipline. Outside of school, Linkai has worked at the UBC Hospital Department of Psychiatry and has a keen passion for running and the outdoors. Through the SAC, he hopes to further expand student involvement and help students develop crucial skills required in the competitive professional world.
Kayla Butcher, Applied Science, 4th  year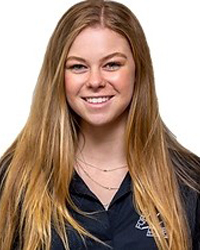 Kayla is a 4th-year integrated engineering student, driven by a passion for cultural exploration. Growing up in Thailand, Indonesia, and Scotland fostered a love for embracing different cultures. Fueling her engineering skills, Kayla is a member of the Formula UBC Racing team, channeling her expertise into designing high-performance vehicles. Through many co-op experiences, Kayla has honed her practical skills and expanded her network. She is excited to integrate her love for diverse cultures with her work on the SAC, ensuring a vibrant, inclusive community. Outside of school, Kayla loves traveling, cooking new foods, and playing soccer!
Jiayi Li, Science, 4th year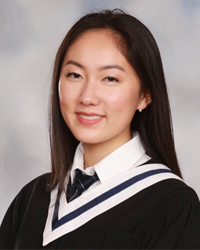 With roots in Shanghai, Auckland, and Vancouver, Jiayi understands the importance of diverse and inclusive communities. She is passionate about building meaningful connections, and looks forward to returning to the SAC as a member of the Career Development Team, with the goal to promote events that are accessible to all of the UBC community. Jiayi is in her fourth year of Integrated Sciences as a Co-op student – she is excited to see what the upcoming school year holds!
Katherine Feng, Science, 5th year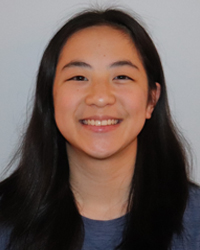 As a Science Co-op student, Katherine is currently working at a lab that studies the structure of ion channels. Some of her recent involvements on campus include representing the Faculty of Science on student council at the Alma Mater Society, serving on the Science Undergraduate Society Council, and addressing food insecurity as a volunteer and Outreach Executive of the AMS Food Bank. Katherine aims to use what she has learned during her time at UBC to strengthen the connection between the school's student and alumni communities.
Niki Shahraki, Science, 4th year
Niki is passionate about mentorship and supporting the professional growth of students. As VP Mentorship for Women in Science and Editor for the Canadian Journal of Undergraduate Research, she works towards accessible research and professional opportunities for students. She looks forward to continuing to work towards these goals with the career development team this year. As an NSERC research student, Niki's research focuses on women's health. She has also led several humanitarian projects in the Middle East to support girls' rights to education. Outside academics, Niki enjoys singing with the UBC women's choir and training for triathlons!
---
Internal
Joshua Dar Santos, Arts, 2nd year
A second-year student and lifetime resident of Vancouver, Joshua has a passion for politics, history, international relations, and law. He has been heavily involved in equity-inclusion programs at UBC, including the position of BIPOC Events Coordinator for the Arts Undergrad Society. Joshua is also an avid reader and writer, particularly in philosophy. Singing is another passion for Joshua, as the Musical Director of the UBC A Cappella group "Fast and Forte".  Never shying away from work that will help the student base, Joshua is thrilled to work with the SAC.
Hubaib Amin, Commerce, 3rd year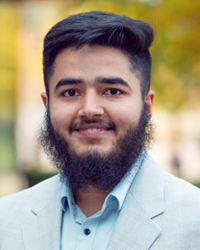 Multilingual in over seven languages, Hubaib came to Canada from Afghanistan in 2018. Hubaib has a passion for finance, particularly investing and social impact. He has always been passionate about giving back to the community, whether it is forming new organizations that provide free tutoring for students or working as the Chief Finance and Operations Officer with the BC Youth Council. Hubaib is a 2021 Loran Award recipient and has been involved in the SAC since his first year, as well as in Student Housing as a Residence Advisor.
Lulu Wang, Arts, 5th year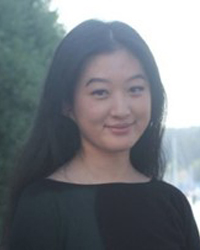 During her time at UBC, Lulu has been involved in various aspects of student life. Her involvements range from working in research and teaching assistant roles to serving in club executive positions, including her current role as co-president of the Sociology Students' Association. Outside of school, Lulu can be seen at museums, cafes, or simply exploring this beautiful city. A strong believer in opportunities and team building, Lulu believes a positive team environment is essential for anyone to flourish, and she is excited to contribute her knowledge as part of the Internal team!
Rachel Shi, Science, 2nd year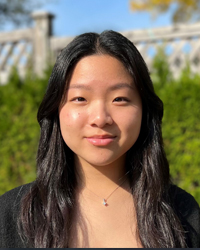 As a student who has lived in Vancouver all her life, Rachel is excited to continue her education at UBC and pursue her passion in technology through computer science. After exploring her first year with the SAC as a first year representative and as an elections administrator with the Science Undergraduate Society, she looks forward to expanding her connections with the UBC community. She is looking forward to another exciting year with the SAC and all the opportunities to come in the future!
---
Media Production
Romina Hajizadeh, Arts, 4th year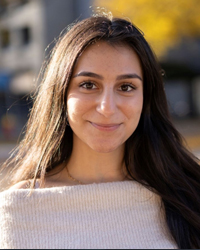 Romina is a fourth-year Arts student studying International Relations and Middle East Studies. She loves pugs, sunsets, and joined the SAC out of personal love for our campus community! Coming from a background in the AUS and AMS, she is beyond excited for the new adventures in the Media Production team. As a true Tik Tok connoisseur, she promises the SAC's social media will be absolutely popping this year!
Xya Parashar, Science, 3rd year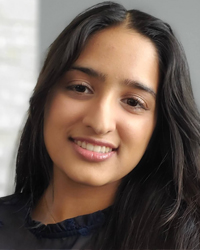 Born in Toronto, Xya developed a strong passion for medicine at a young age. She strives to continually give back to her community, whether it be as a member of MLA Tracey Allard's Council or as a Secretary of UBC's New Volleyball Club. Xya remains keen on exploring new ways to connect with others. She actively stays involved in her cultural community through her love for dance and henna artistry. She is excited to return to the SAC and aims to use her leadership experiences to create stronger connections between students and alumni.
Zoe Wagner, Commerce, 2nd year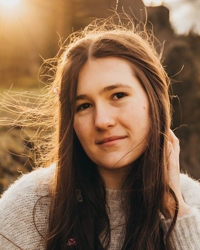 Zoe has grown up in six countries over her life, and is curious to discover the international experiences and career opportunities available at UBC. She was a competitive rock climber in both Canada and the United States, and has a dangerous sweet tooth. She has been living off chocolate mug cakes since being at UBC, and will continue her microwave-baking escapades during her time in residence. With a passion for photography, entrepreneurship, travel, and community, she aspires to share more of the world's stories with others through business lenses and community events.
Max Yang, Science, 4th year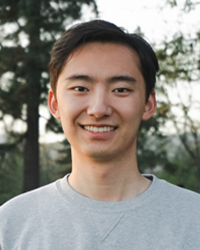 During his time as a UBC student, Max has enjoyed engaging with UBC student life and capturing memories. Whether it was within TheCalendar or the Science Undergraduate Society, Max has continued being an active videographer/photographer on campus by capturing huge student events such as UBC Winter Classic, UBC Homecoming, Halloween Party and many more. Outside of school, Max enjoys competing in dragon boat racing, and playing basketball. He is excited to continue capturing content for the student body as a member of SAC's Media Production team in 2023-2024.
Abera Jeyamuraly, Education, 3rd year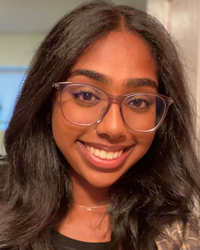 Abera is a third year student exploring the multidisciplinary stream in the Kinesiology program. She values the sense of community at UBC and hopes to establish connections through a sociocultural lens. She is thrilled to promote Tamil culture in her upcoming role as President of the Tamil Students Association. With a passion for digital design, she has various experiences in media coordination with the KUS and non-profit organizations. Abera looks forward to sharing her ideas with the Media Production team. Outside of digital design, she enjoys being active outdoors and finding the perfect cup of coffee!
Ruby Kramer, Arts, 3rd year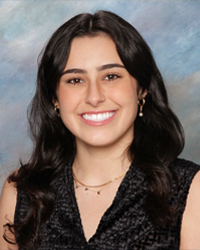 Ruby has spent most of her life living and travelling around Latin America, where she developed a passion for bettering her local community. Some of her recent involvements on campus include serving on the Arts Undergraduate Society Council and representing UBC Unicef as Vice President External. She is overjoyed to be a member of the Media Production team. Through her experience with the SAC, she hopes to provide a unique perspective and work collaboratively to foster and strengthen student-alumni relations.
Rachael Peng, Applied Science, 3rd year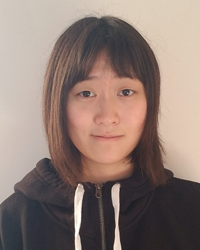 Rachael is a third-year Integrated Engineering student in the Faculty of Applied Science, originally from Calgary, Alberta. She is passionate about community impact, sustainability, and expanding her worldview through diverse experiences. Some of her favourite involvements with UBC are engaging with First Year Experience as a Jump Start Orientation Leader, designing clean-cooking stoves with Engineers Without Borders, and learning a new sport with UBC Taekwondo. She is excited to help support the UBC student-alumni community!
CONTACT INFORMATION FOR FURTHER INQUIRIES
Kieran Davey
Alumni Engagement Officer – Student Alumni Council
alumni UBC
kieran.davey@ubc.ca
---
FOLLOW THE STUDENT ALUMNI COUNCIL ON SOCIAL MEDIA
---
LEARN MORE INFORMATION ABOUT BECOMING A FIRST YEAR REPRESENTATIVE FOR THE STUDENT ALUMNI COUNCIL
---
LEARN MORE INFORMATION ABOUT JOINING THE STUDENT ALUMNI COUNCIL
---
PAST STUDENT ALUMNI COUNCILS