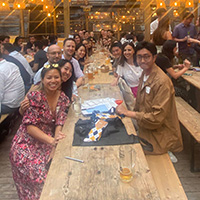 The further away you are from UBC campuses, the harder it can be to meet fellow alumni. So for those who live outside our campus communities in the Lower Mainland and Central Okanagan, we've created My Town Meetups to help alumni find each other and build social networks — anywhere in the world!
Curious who else is out there? Get to know your local UBC community by either attending or hosting a My Town Meetup. Whether you studied Linguistics or Law, graduated in 1965 or 2022, or live in San Diego, Stockholm or Seoul, you can gather in person over a meal or coffee, or virtually on Zoom.
Hosting a meetup is easy. Just select a date and time, pick a venue, decide who you want to invite – and alumni UBC will do the rest!
Need assistance? Contact us by email.
Upcoming meetups
Past My Town Meetups have included locations such as Singapore and Monterrey, Mexico! Meetups are in the works for Montreal, London UK & New York, with additional locations to come! More details will be released shortly.
---
Update your address
Not receiving invitations to meetups in your area? We may not have your current address. Update your contact information here.