Roy Chen: Reaching resolution by mentoring others
Imagine feeling rudderless while everyone around you is racing ahead. That's what Roy Chen (BSc'07, MSc'16) experienced as an undergrad at UBC. After graduating, however, he found a way to transform the shortcomings of his university years into something valuable for others.
Chen, who specialized in cell biology and genetics for his bachelor's degree, is now a research coordinator at Vancouver General Hospital. Yet in a candid chat on Zoom, he admits that he "struggled through university." Uncertain about his post-graduation plans, he felt out of place among peers who were aspiring to get into medical, dental, or law school. He also didn't know whom to turn to for guidance or support.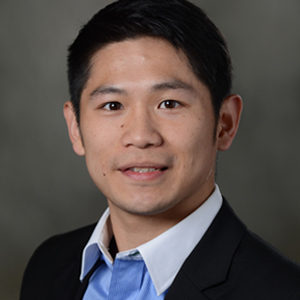 "I had no idea what I wanted to do with my life," he says. "I thought to myself, 'It would be nice if there was somebody who's gone through the journey already who was able to speak to their experiences.'"
His frank yet personable way of speaking is reflected in what he shares as a mentor with students. He became involved in UBC's Tri-Mentoring Program around 2013, and then Beyond the BSc workshops (now called Alumni Networking Nights), which he's still involved in.
Although Chen does talk about his successes in his presentations to students, he also discusses his failures, "so they don't have to struggle as much as I did." In addition, he shares how he transitioned from his bachelor's program into experimental medicine for his master's degree (which was a different experience because by then, he explains, he was focused and "more driven").
Second year science student Tricia Lee, who has attended two Alumni Networking Nights and three Beyond the BSc workshops, appreciated how forthcoming Chen was about his experiences.
"He wasn't shy to talk about normally sensitive topics, like the salary of his past jobs as a crucial reason for why he changed career paths and got a master's degree," she says. "It made me more comfortable to ask further questions."
In fact, after attending the workshops, Lee decided to switch her major from biochemistry to biology. She explains that hearing alumni reflecting upon how they chose their careers helped her realize that the biochemistry program prepares students for research or grad school, neither of which interests her.
"Instead, my dream is to become part of the Student Engagement Office in the Faculty of Science, or a similar advisor position at a university that would help me engage students in career development, as it's something I'm personally passionate about," she explains.
In mentoring students, Chen has learned to avoid giving advice. "I shouldn't impose that sort of idea of how it works for myself on to others," he says. Instead, he feels he should get to know the students and develop a "coaching" approach to help them on their own way.
Ultimately, he regards his volunteering experiences as "gratifying," deepening his connection to UBC and helping him "find resolution internally" for what he experienced as a student.
"I just feel really thankful for the opportunity to even share my journey," he says, and encourages everyone to experience the value of telling their stories.
"By all means, just do it."