Dr. Chris Bryant: Inspiring the next generation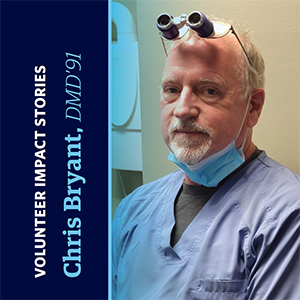 For Dr. Chris Bryant (DMD'91), being a good mentor is just as important as being a good dentist. An alum of UBC Dentistry, he first recognized the value of mentorship as a student when he met several professors and dental professionals who supported him throughout his degree. He maintained many of these relationships following graduation, and continued to learn from his mentors as he set up his own dental practice in Sooke, B.C.
In 2012, Dr. Bryant felt equipped to start giving back to the next generation of dentists. He signed up to volunteer as part of the UBC Dentistry Summer Student Practitioner Program (SSPP), and has continued providing mentorship every year since.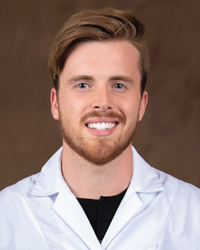 The SSPP gives incoming fourth-year students the opportunity to practice dentistry within approved competencies, for up to seven weeks in any city across B.C., with an emphasis on rural communities. Participants receive a temporary license and insurance coverage, and are paired with a practicing dentist, which allows them to experience the day-to-day operation and management of patient care.
Every summer, Dr. Bryant welcomes one or two students to his practice in Sooke, and also offers them a room in his house for a truly immersive experience within the community.
"The goal is to really enrich the student's three core areas of competency, which are clinical, behavioural, and fiscal," Dr. Bryant says. "I try to teach the students that everything they do from the moment they wake up in the morning to the moment they go to sleep can affect their practice. You really need to be competent in your personal life to have a fulfilling professional life, so that's something we talk a lot about. Growing their understanding of how they serve our province is essential."
Dr. Bryant says volunteering with the program is a win-win experience — the mentoring dentist receives extra help in their clinic and students gain confidence in their skills.
"It's amazing to see the students I have in my practice grow each day they're here, whether it be conquering a clinical skill or gaining a better understanding of a concept," Dr. Bryant says. "Working throughout the summer allows the student to become the best version of themselves, and this is the most satisfying reward I get back from participating."
In the summer of 2022, Dr. Bryant invited two incoming fourth-year UBC Dentistry students to his practice. Morgan Varley jumped in feet first, providing three crowns on his first day.
"Dr. Bryant is an amazing mentor because he allowed me enough space to grow as an individual but was also right there anytime I had a question or needed support," Morgan says. "We would talk about dentistry all day long and I absorbed so much knowledge from him."
Meanwhile, Nils Pavey spent three weeks at Dr. Bryant's practice, and says one of the most important lessons he learned was about forming relationships.
"I admire the way Dr. Bryant interacts with his patients and staff. He's so empathetic and his patients truly love to come in and see him," Nils says. "You can tell he spent time getting to know his patients, which is something that drew me to dentistry in the first place — the ability to develop long-lasting relationships — so it was great to see that in practice."
Both Morgan and Nils keep in contact with Dr. Bryant, whether it be casual check-ins or dentistry-related questions via text or phone call. For Dr. Bryant, this is another aspect of volunteering that he finds rewarding: lifelong friendships.
Dr. Scott Kollen (Bsc'09, DMD'13) was the first student to spend the summer with Dr. Bryant back in 2012, and the pair keep in touch more than a decade later. Dr. Kollen now has his own practice in Vancouver, and says thanks to the amazing experience he had in Sooke, he's looking forward to volunteering with the SSPP in the near future.
"Dr. Bryant's generosity is just through the roof," Dr. Kollen says. "After spending a few weeks in the summer with him, he would invite me and my brother to stay at his place if we were visiting Vancouver Island for a surf trip. He really is so kind. I feel lucky to have Chris as a mentor, so now I plan to volunteer with the SSPP to pay it forward."