The Honorable Linda Loo: Learning from different generations goes both ways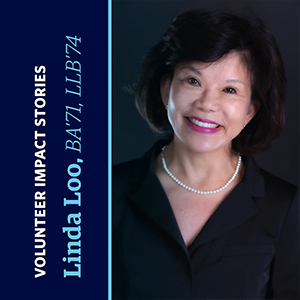 When the Honorable Linda Loo (BA'71, LLB'74) was standing on the corner of Main and Hastings in Chinatown selling apples for 25 cents each, she overheard someone ask, "Isn't that our lawyer?"
Loo was, in fact, a lawyer at that time — back in the 1970s. But she was peddling fruit because her late mother had asked her to help with a fundraising effort.
"I come from a family, especially my mother, who was really big on volunteer work," she explains by phone.
Now 75 years old, the Vancouver-born Loo has continued on volunteering.
Yet when she was initially asked to participate in the Student, Alumni, and Community Dinners for UBC's Peter A. Allard School of Law, she feared she shared nothing in common with current students. That's because she graduated in the days of manual typewriters and dictation, "way before [desktop] computers or even photocopiers," she says.
She only agreed to do it if a younger lawyer could accompany her. Consequently, Steven Ngo (JD '14) co-hosted with her, and she also took along her lawyer husband Stephen Richards (BA'81, LLB'85).
"These law students are young enough to be my grandchildren!" she says, with bemusement. Nonetheless, she was fascinated by them. "They say they learned from me — but I found I learned a lot from them."
While dining at venues like the Point Grey Golf and Country Club or the Royal Vancouver Yacht Club, she took notes about the books they were reading, was amazed to learn about ChatGPT shortly after its release, and discovered "how difficult and challenging it was during COVID to attend school."
She also marveled at how much social change has taken place — in her school days, she could count the number of Asian and women students on one hand each. She herself shattered a glass ceiling by becoming the first Chinese Canadian woman appointed as a judge to the B.C. Supreme Court.
Because law has been good to her, she says, she feels "strongly" about helping others.
"It was a privilege to be able to go to law school," she says, "and I recognize that the small amount of money we paid in tuition is but a small part of the real cost."
Manraj Khurana, a third-year law student with a Bachelor of Science from the University of Western Ontario, was among those who benefitted from attending one of her dinners. He appreciated "how approachable and magnanimous," empathetic, and open-minded she was.
"I was quite nervous going into the dinner that my etiquette might not be up to snuff to be able to dine with judges and other distinguished members of the legal profession," he explains. "She immediately fostered a welcoming and positive environment that set me at ease."
During the evening, he appreciated hearing stories, including from Richards and Ngo, about "how to navigate what can be a minefield of professional challenges." He also gleaned practical tips from Loo.
"She was even gracious enough to give me some very salient interview advice that I used weeks after the dinner, during my interview," he says, "which goes to show how even a small interaction like an evening dinner can ripple to have lasting impacts on the people who participate."
While Loo is concerned that many alumni of her "vintage" may not volunteer because they "feel like they have nothing more to offer," she emphasizes that "it's important to give back." And she points out how honoured the students feel to have dinner with alumni.
The efforts of Loo, Richards, and Ngo clearly made an impression upon Khurana, who says he would love to participate in this program in the future — as an alum.
"It's important to remember we all stand on the shoulders of giants," he says, "and I would gladly pass on the favour, given the chance to do so."