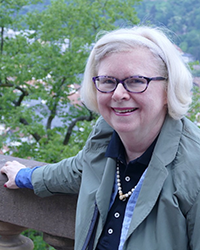 Patricia Mohr is a former Vice-President, Economics and Commodity Market Specialist at Scotiabank's Executive Offices in Toronto (before retiring in April 2016). Pat worked closely with Corporate and Investment Banking – including the Mining, Oil & Gas, Forest Products and Agriculture teams – with Wealth Management and with Global Risk Management. Scotiabank is the top corporate mining bank across Canada and North & South America, with extensive offices throughout China, India and the Far East. Scotia Mocatta is the world's No. 1 physical trader of gold, is a member of the LBMA gold price setting and the Shanghai Gold Exchange, while Scotia Waterous is a leading global player in energy M&A.
Ms. Mohr developed the 'Scotiabank Commodity Price Index' – the first Index designed to measure price trends for Canadian commodities in export markets. Pat is a frequent speaker at international conferences such as 'China Mining 2015' in Tianjin, the 11th International Gold & Silver Symposium' in Lima, Peru, the PDAC in Toronto and the Platts' Crude Oil Markets Conference in Houston.
In February 2013, Pat was honoured to receive the prestigious Metal Bulletin Apex Awards in London for the most accurate gold and precious metal price forecasts of 2012 (in a poll of 26 institutional analysts).
Ms. Mohr holds an Honours B.A. Degree and an M.A. Degree in Economics from the University of British Columbia and has been a member of the UBC Toronto Leadership Circle.
Pat has recently joined the Board of Directors of the Greater Vancouver Board of Trade on the Policy Council. Ms. Mohr is a member of the Board of Directors for Emissions Reduction Alberta (ERA) – channelling public funds into leading-edge R&D for GHG mitigation. Pat is also a Director of the 'Centre for Research & Innovation in the Bio-Economy', established by the Ontario Government to fund and commercialize forest-based biotechnology.
Prior to joining Scotiabank, Ms. Mohr spent a number of years with Alberta Energy Co. Ltd. (now EnCana Corp.) in Calgary and with CP Ships and Canadian Pacific Bermuda in London England as Corporate Economist. Pat enjoyed working with senior management on ship charter and investment strategy for the company's international tanker & bulk carrier fleet. Ms. Mohr began her career with Natural Resources Canada in Ottawa.