2021 Student Alumni Council
Harjot Uppal, Honours Integrated Sciences, 4th year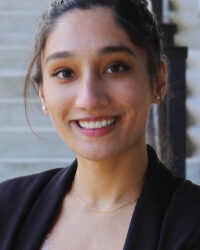 As SAC President, Harjot is excited to strengthen and add to the SAC's initiatives. Over the past year, she has actively facilitated dialogue between high school and university students through a mentorship program called Youth Leading Youth. For the past two years, she has also been involved with the Science Undergraduate Society and is thrilled to take on the role of Vice President External for the upcoming school year. She hopes to leverage her dual roles to strengthen the alumni voice in the UBC community.
Will Oxtoby, Honours Philosophy and Computer Science, 4th year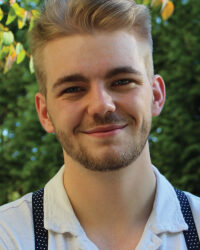 Raised in Kelowna, Will moved to UBC Vancouver to experience the diverse community that the university offered. Will has worked as a Residence Advisor in c̓əsnaʔəm House in Totem Park. Will is excited to continue his work as an RA, a Student Ambassador, and as an executive member of the Student Alumni Council.
VICE-PRESIDENT, CAMPUS TRADITIONS
Emily Gubski, Medicine, 2nd year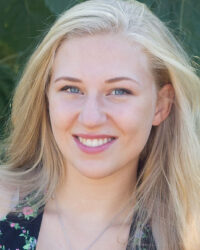 Currently a medical student, Emily previously studied Computer Science and Microbiology & Immunology. Throughout her time at UBC, she has been very involved across campus. Her involvements include as a residence advisor, at the AMS, VP academic of the Computer Science Student Society, SLC presenter, and as a teaching assistant/course development staff for an intro and upper-level CS course. Emily is excited to bring her love for UBC to the SAC and help foster a strong student community.
VICE-PRESIDENT, ALUMNI RELATIONS
Sean Thorne, International Relations, 4th year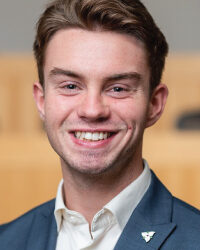 Originally from Mississauga, Ontario, Sean is incredibly excited to join the SAC as VP Alumni Relations. Sean has been involved on campus as a Student Ambassador, as a Jump Start Orientation Leader, and as a volunteer and a Scholars Community Program Ambassador with UBC Development and Alumni Engagement. Outside of school, Sean is a reservist in the Canadian Armed Forces and enjoys cooking and motorcycling. Passionate about UBC, Sean is keen to develop the relationship between students and alumni with the SAC team.
VICE-PRESIDENT, STUDENT ENGAGEMENT
Sameer Esmail, International Relations, 3rd year (BA + MM Dual Degree)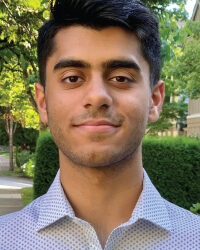 Sameer has a passion for diplomacy, public policy, and promoting connections across cultures and communities. Sameer aspires to have a career solving global challenges with locally-driven solutions. His involvements on campus include working in Residence Life, giving tours as a UBC Student Ambassador, and co-leading UBC's chapter of PennyDrops, a national financial literacy non-profit. He is also a part of the Arts Co-Op program and has worked with TEDxUBC and UBC Model UN. Sameer is excited to support student connections with alumni on the SAC this year.
---
General Members
Sofia Allueva, Social Work, 4th year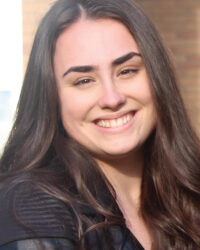 Sofia strives to be a facilitator of inclusive spaces and communities at UBC in all of her involvements. As a Senior Student Ambassador, Sofia helps lead the UBC Campus Tours team. She also volunteers with on-campus groups like the UBC Humanitarian Organization for Providing Empowerment (H.O.P.E.), where she has worked as a Chapman Innovation Grant Project Leader and Community Coordinator. Sofia's involvements also include Residence Life as a Residence Advisor and UBC's Centre for Accessibility as a Faculty Assistant. Sofia has been a part of the SAC since 2020, spearheading the creation of our podcast 'Tuum Est'.
Sarah Azad Manjiri, Psychology, 2nd year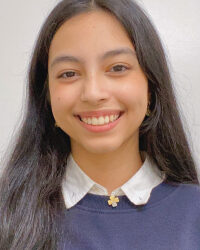 Sarah is passionate about fostering a welcoming environment at UBC. This passion extends to her involvement with UBC's Mental Health Awareness Club and the Arts Undergraduate Society's First Year and HeWe Committees. As a Beedie Luminary, she constantly challenges herself and looks forward to exploring UBC's diverse community.

Nicola Bodnarchuk, Global Resource Systems, 4th year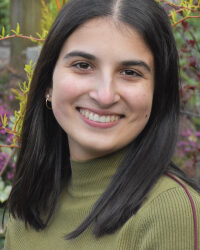 Nicola is passionate about the communities in which she lives and serves, having volunteered as a First Responder and in international outreach initiatives. Within the UBC community, she has been an Orientation and Transition Leader and works closely with the Global Resource Systems program to facilitate discussion surrounding current local and global issues. She looks forward to contributing to the development of broader alumni and student engagement strategies in her second year with the Student Alumni Council.

Lian Boltwood, Global Resource Systems, 4th year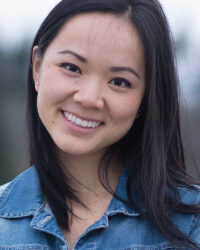 Originally from Washington State, Lian was inspired to join UBC's diverse community after volunteering in Peru and Cambodia. Over the past three years, Lian has volunteered with campus groups like UBC REC and LFS Undergraduate Society, as well as worked as a Virtual Collegia Advisor. Academically, Lian is passionate about global health, nutrition, and Chinese language. In her spare time, she enjoys backpacking, snowboarding, and fostering cats. She is proud to part of the Campus Traditions committee and continue fostering meaningful experiences for current students and alumni.

Amelia Booker, Honours English, 3rd year (BA+MM Dual Degree)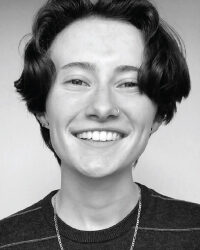 Amelia is passionate about language and writing, with experience in both dramaturgy and journalism. She hopes to expand on her skills within the SAC and is eager to make new connections. After a year studying remotely, she is looking to further immerse herself in the UBC community and show students all that it has to offer. Outside of UBC, she is also involved with non-profit organizations such as the BC Youth Parliament and Motive Word & Pen.

Avneet Brar, Behavioural Neuroscience, 4th year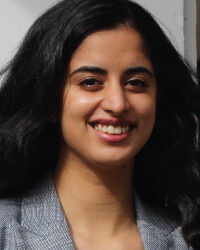 Avneet is excited to work with the Alumni Relations committee this upcoming school year. She hopes to provide meaningful ways for current students and alumni to establish connections and better access the resources available to them. This year, Avneet will work with the BRAIN Lab as a Research Assistant to explore her passion for neuroscience. In the past, she has been involved with the Science Undergraduate Society, serving as a chair in the Communications Portfolio, and as a coordinator for the mentorship program.
Sarvpreet Brar, Applied Science, 2nd year
Due to the pandemic, Sarvpreet was unable to start her first year in person at UBC. However, her belief in student engagement led her to pursue a role in the Student Alumni Council. She was very active in student involvement at her high school. She also spent time giving back to the community by working at the local helpline in her hometown, Calgary. In her free time, she enjoys exploring Vancouver and the outdoors. She looks forward to contributing to creating a closer community at UBC!
Sajida Chowdhury, Integrated Engineering, 3rd year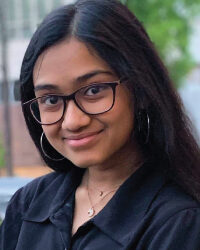 Sajida was born and raised in Burnaby, BC and is close to her Bangladeshi heritage. Her involvements include giving campus tours as a Student Ambassador, building drones with UBC Unmanned Aircraft Systems, designing a full-sized rocket with UBC Rocket, doing research in the longevity of titanium implants through UBC Undergraduate Research Opportunities as well as being a Collegia Advisor for first-year students. She loves meeting new people and hearing diverse stories.
Jaskarn Dhaliwal, Behavioural Neuroscience, 5th year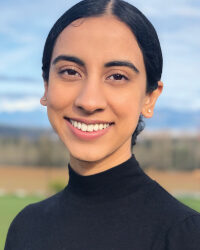 Jaskarn is passionate about creating welcoming spaces for students and providing opportunities for professional and academic advancement. Her leadership experience and campus involvements include being president and founder of AMS ECHO, being an executive of UBC's PSI CHI chapter, coordinating the UBC Science Undergraduate Society's mentorship program, and volunteering with UBC Imagine Day Orientation. Outside of school, Jaskarn enjoys art, murder mysteries, and the outdoors. She looks forward to leaving a legacy at UBC, connecting students and alumni.
Elliott Gee, Biology and Microbiology & Immunology, 4th year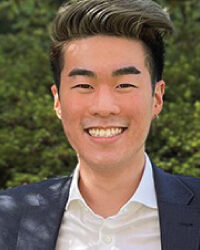 Throughout his time at UBC, Elliott has been involved in many different aspects of student life. In the classroom, he has been a Peer Tutor for BIOL 200, supporting over 500 students in learning cell biology. Outside of academics, Elliott has strengthened student wellbeing and campus community through roles as an Education and Outreach Volunteer on UBC's First Aid Student Team, Dialogue Team Leader on AMS Peer Support, and Residence Advisor. As a proud UBC Cheerleader, Elliott has spread school spirit at events like Imagine Day. Elliott is excited to serve students in new ways in the SAC.
Jerome Goddard, Political Science, 5th year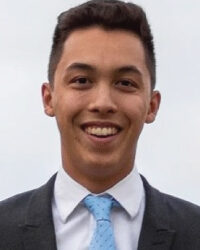 Jerome has served as the AVP University Affairs in the Alma Mater Society, as well as other roles in the Arts Undergraduate Society and on AMS Council. For two consecutive years, he was on the organizing team of Drop the Puck for Mental Health, a hockey initiative that has raised over $40,000 for the Canadian Mental Health Association. He has also been involved with the UBC Student Legal Fund Society, UBC Recreation, and Congress 2019.
Soniya Huda, Commerce, 2nd year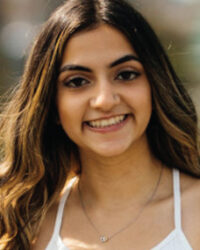 Soniya's involvement in her communities has helped her grow in her capacity as a leader. These include as President of a Social Justice club in her secondary school, as well as a Marketing Representative for the UBC Ismaili Student Association. Outside of school, Soniya initiated a private tutoring service for French Immersion students and teaches as a Swim Coach. Soniya is excited to serve as a member of the SAC, and hopes to lead exciting initiatives for the UBC community.
Eric Liu, Pharmacology, 5th year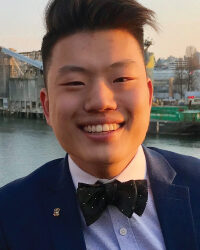 For the past year, Eric has been pursuing active research in the Van Petegem Lab in the Life Sciences Center. Since first stepping foot on campus, Eric has held various leadership positions in his fraternity, notably Executive Secretary and Vice President Internal. He was recently elected as the Vice President of Member Development for the Inter-Fraternity Council. In his free time, Eric enjoys immersing himself in music as a DJ.
Esha Mahmood, International Relations, 3rd year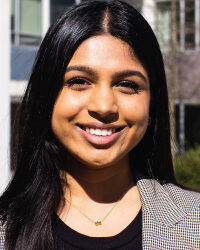 Over the last 2 years, Esha has been committed to student life at UBC. Through her work with the Arts Undergraduate Society, The Calendar, UBC Sororities, Residence Life, the AMS Foodbank, and JumpStart, she has organized events and advocated to improve student experience. She looks forward to continuing to engage with campus involvement opportunities during and beyond her degree and facilitating connections to help students get the most out of their university experience.
Adan Moallemi, Biology, 5th year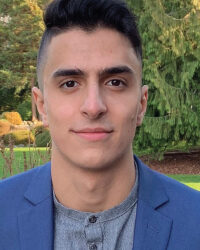 During his time at UBC, Adan has been involved in many campus organizations. In his second year, he created the first "Drop the Puck for Mental Health" philanthropy hockey game, raising over $10,000 for the Canadian Mental Health Association. The following year, the event raised over $30,000! Recently, Adan served as the President of the Inter-Fraternity Council where he gained a plethora of leadership experiences. Adan is excited to return to the SAC.
Helia Moghaddam, English, 2nd year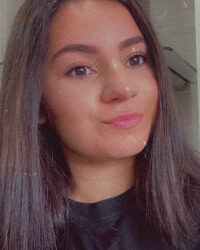 Helia is a seasoned debater and public speaker, having given TEDx talks on equality in the education system and on substance abuse in youth. Helia has been the philanthropy coordinator for the Arts Undergraduate Society and a member of UBC's debate society. Aside from her passion for public speaking and youth issues, Helia is interested in governmental policy issues, politics, and freelance journalism.
Huy Pham, Commerce, 3rd year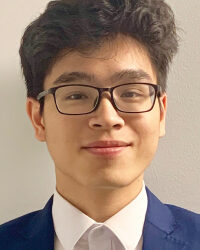 Huy is a creative problem solver who deals with rising challenges and always looks for what may be improved. As a member of the SAC, he hopes to lead by being a positive influence and to help empower everyone. His previous experience includes the role of President of the Student Council at his secondary school and a Junior Event Executive with the Vietnamese Student Society. UBC has given him a multicultural environment, a world of new knowledge, and an independent life to rediscover his core values.
Taarika Rajani, Psychology, 4th year (BA and Masters of Management Dual Degree)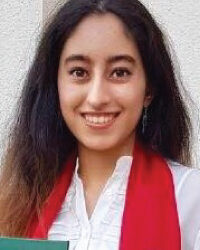 As an international student, Taarika is passionate about finding opportunities to foster community for students. She has been involved as a first year representative in residence and in the Arts Undergraduate Society before going on to work as a Residence Advisor in Totem Park. Last year, she developed event management skills and gained confidence in reaching out to business professionals and alumni as VP Events of the B+MM Student Association.
Cody Rector, Food and Nutritional Science, 3rd year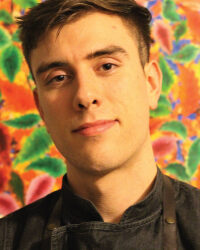 Cody's main interests lie in food and finances. Before coming to UBC, he studied Culinary Arts at the Culinary Institute of Canada in P.E.I and went on to acquire his Red Seal. Recently, he passed the Life License Qualification Program and is awaiting his financial license. During his time at UBC, he has continued his interest in food by staying actively involved with Agora Café, a student run café with more than 100 volunteers.
Lucas Rempel, Honours Integrated Sciences, 5th year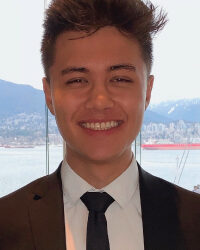 Raised in North Vancouver, Lucas is an avid skier and enjoys running throughout Vancouver's diverse offering of streets, trails, and seawalls. He is a passionate student researcher, having presented on stem cell biology at academic conferences across North America. On campus, Lucas has had several different roles with UBC Orientations and has contributed to multiple initiatives that advocate for harm reduction and awareness of sexualized violence in the UBC community. Lucas is excited to return to the SAC again as a member of the Alumni Relations Committee.
Prabhleen Sandhu, Science, 2nd year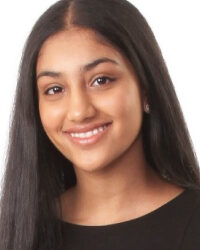 As a returning member of the SAC, Prabhleen is looking forward to establishing a stronger sense of community at UBC. She is involved with various clubs to make her years at UBC more memorable and is excited about her future endeavours with the Student Engagement team.

Aleah Sia, International Relations, 4th year (BA and Masters of Management Dual)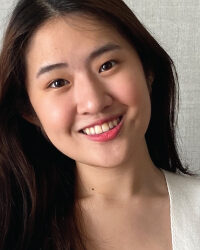 After growing up in Vancouver and moving back to the Philippines, entering UBC allowed Aleah to enhance her fascination with globalization and understanding the interconnectedness of different cultures. She has been involved with UBC's Chinese Student Association, the Arts Undergraduate Society, and Agora Cafe. Through these experiences, she developed her passion for organizing and promoting events that serve the interest of UBC's community. As a member of SAC, she looks forward to expanding her professional skills and learning from experts across various industries.
Olivia Stedman, Psychology and International Relations, 4th year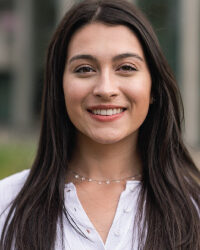 Originally from Vancouver Island, Olivia wants to work in the international sector of Humanitarian and Criminal Law. Outside of class, Olivia has been the marketing officer for the Hope for Happiness program, the Recruitment Lead for the UBC HOPE Women's Initiative, the Program Ambassador for the UBC Scholars Community, and is the founder of the UBC Youth Empowerment Program.
Shruti Swami, Integrated Sciences, 4th year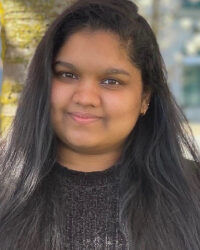 Shruti is the president and founder of Project Blue Drop (PBD), a non-profit supporting grassroots water equality and climate crisis groups. Her experience includes collaboration with external organizations and donors in fundraising and advocacy. Shruti has worked as a Residence Advisor for two years and has volunteered with the GF Strong Rehabilitation Research Lab focusing on the impact of COVID-19 on Canadians. Shruti is thrilled to be part of UBC's student body.
Gabriella Sunario, Food Science, 5th year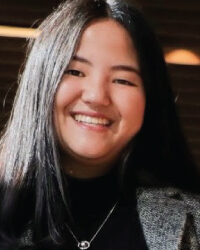 Born and raised in Jakarta, Indonesia, Gabriella was eager to find community and make the best of her experience in UBC. After an impactful first year, Gabriella was inspired to give back to her community by supporting first year students as a Collegia Advisor and a First Year Experience Student Coordinator. Over the pandemic, Gabriella advocated for student needs and worked to enhance their experience by serving as President of the LFS Undergraduate Society. She is excited to her peers through the SAC this year.
Ryan Wong, International Economics, 4th year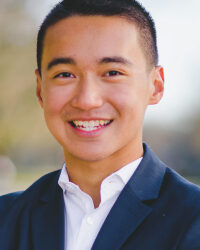 Ryan is excited to return to the Student Alumni Council. While he is originally from Mississauga, Ontario, he has found studying at UBC to be a life-changing and wonderful experience. He brings an extensive amount of leadership and student advocacy experiences, including the roles of President of the Vancouver School of Economics Undergraduate Society, a Councilor on the AMS Council, and a Director on the Student Legal Fund Society Board of Directors.
Olivia Zywicki, Art History, 4th year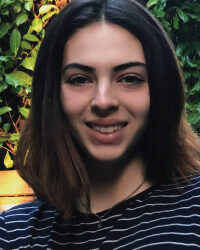 Olivia has been involved on campus through her role as a Student Ambassador at the Robert H. Lee Alumni Centre. She enjoys working with both students and alumni and the opportunity to interact with them through various events. She finds it exciting to get to know the wide range of people within the UBC community. She loves UBC and is proud to be a part of the network of people that make it such a wonderful environment.

---
First Year Representatives
Hubaib Amin, Commerce, 1st year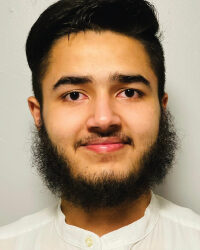 Hubaib is a first year student at the Sauder School of Business and has the honor to be the first year representative for the Alumni Relations committee. He moved to Ontario from Afghanistan with his family in 2018, due to the increased instability in his country. Previously, he has founded several clubs, including Peer Tutoring which provided free tutoring for students. He was also a two-time student senator and co-chair of the Student Voice Committee at DDSB. In his free time, Hubaib coaches self-defense to kids between the ages 4-14 free of charge.
Olyvia Guo, Science, 1st year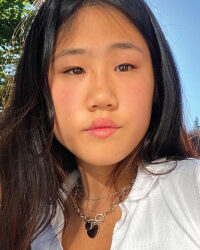 Keen to explore the intersection between cognition, human behaviour and society, Olyvia aims to major in Cognitive Systems and minor in Anthropology. With her background as a high-performance student athlete, she hopes to bring her leadership and teamwork skills to the SAC. At age 17, she delivered a TEDx talk on how the impact of an individual is greater than we may think. Within her community, she holds several notable positions as Youth Chair of her local riding, Policy Chair for the Young Liberals of Canada, mentor for Next Stop Canada, and NCCP trained coach.
Tanisha Kadia, Science, 1st year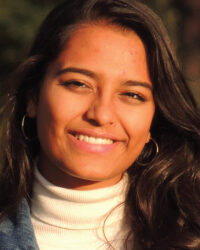 From Fort McMurray, Alberta, Tanisha is excited to bring a new voice to the SAC and join the UBC student body. As First Year Representative, she strives to embody her diverse class and allow her love for science, music, and community to guide future projects. Tanisha hopes to create more opportunities for first generation and international students to find their home at UBC. Tanisha is greatly looking forward to collaborating with her fellow SAC members and adding her thread to the UBC tapestry.
Ethan Kim, Commerce, 1st year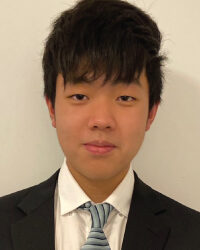 Ethan is a first-year student at Sauder School of Business. He has been volunteering for the United Nations Association Canada as a student writer, publishing articles about UN SDGs, and has experience as a board member for his high school's IB Council. At UBC, he strives to continue his involvement in the community. As a first-year representative, Ethan is excited to bring his strengths from previous experiences to work with some of the most driven UBC leaders enhance campus experiences and strengthen the network between students and alumni.