Do you have questions about the My Town Meetups series? Check out this list of Frequently Asked Questions first, and if you still need more information, please email us.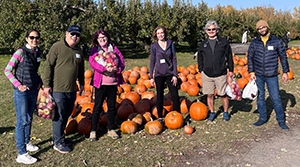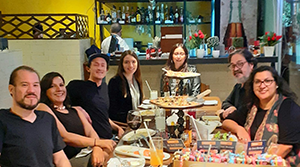 Interested in hosting a My Town Meetup?
Want to attend a My Town Meetup?
FAQ
Who should I invite to my My Town Meetup? 
All alumni in your location are welcome, although the capacity of your chosen venue will influence your decision about who to invite.
In general, hosting smaller, more intimate meetups (e.g. engineering alumni from the past 10 years living in Edmonton) versus very large gatherings (all UBC alumni in San Francisco) will allow you to make the most meaningful connections. Therefore, we recommend being specific about who you would like to invite in the Host Application Form. You can specify guest criteria based on location, faculty, and/or degree year – and even interest area or industry (e.g. UBC alumni in Toronto who love theatre, or UBC alumni in Hong Kong who work in Finance). The My Town Meetups team is happy to help you decide who to invite, based on the size of the alumni community where you live; don't hesitate to email them for their advice!
That said, for smaller alumni communities (such as many of the cities and countries outside of North America), we recommend broad invitation criteria (e.g. all UBC alumni in Dubai) in order to include as many alumni as you can and to reach your target group size. If you live where there aren't many UBC alumni, you could also consider hosting a virtual meetup on Zoom so that you can expand your invitation criteria to include alumni from nearby cities — or even countries — and ensure good turnout. Feel free to email the My Town Meetups team if you'd like to explore hosting a virtual event for a broader region.
You are also welcome to invite alumni friends who you personally know. The My Town Meetups (MTM) program provides an excellent opportunity to reconnect with old friends from the UBC community.
Please note: All in-person My Town Meetups must be held at a public venue (e.g. restaurant, coffee shop, park, etc).
Can I invite non-UBC alumni to a meetup that I am hosting? 
Since the My Town Meetups program is all about making connections and building community with fellow UBC alumni, we encourage each host to focus on sharing their meetup with fellow UBC alumni.
What if I want to host a meetup for UBC alumni who work at my office? 
Go for it! Hosting a My Town Meetup for UBC alumni from your workplace is a wonderful way to expand your social network within your professional community. Before deciding to proceed, we recommend that you ask your workplace if there are any internal communication methods you can utilize to connect with fellow alumni where you work. (Unfortunately, alumni UBC is unable to assist with communications within organizations.)
Am I able to co-host a My Town Meetup? 
Absolutely! If you decide to co-host with a fellow alum, kindly indicate this on the Host Application Form.
How do I choose a date for the My Town Meetup that I am hosting?
We recommend selecting an event date that is at least six to eight weeks away to accommodate time to finalize event details and adequately promote the gathering to UBC alumni in your region. alumni UBC's average promotional timelines are four weeks long, during which time an initial email and a follow-up reminder email are sent to the alumni you would like to invite. Some venues might also need final event numbers confirmed a few days to one week prior to the event date.
alumni UBC has found that attendance can sometimes be lower for evening events on Sundays and Mondays, so you may wish to keep that in mind when picking your date.
Does alumni UBC pay for the meetup and/or any expenses I incur? 
No. Unfortunately, alumni UBC cannot provide hosts with financial assistance or compensation. However, we are committed to supporting your hosting experience in a number of ways. We can assist by:
Helping you determine suitable invitation criteria for your gathering, factoring in the size of the alumni community where you live.
Promoting your MTM gathering to UBC alumni in your respective geographical region.
Setting up the registration form and managing registration for your MTM on your behalf. We will provide you with RSVP updates once a week.
Sending reminder emails to your guests approximately one week, as well as one day, before the event date.
Mailing you a small package of event supplies (contents will vary if the event is in-person or virtual, and could include name tags, a small number of swag items, a printed postcard to use in photos, etc.)
We have also created a My Town Meetups Planning Timeline to assist you in your organizational efforts.
If I host a virtual meetup, what's involved?
As above, if you're considering hosting a virtual meetup so you can invite alumni from a larger geographic region, please email the My Town Meetups team first. Many elements of the planning process will be the same, or similar, to the planning process for in-person events. However, there are a few key differences:
Virtual meetups will take place on Zoom. An alumni UBC staff member will be online with you during the meetup to manage the technical aspects of your gathering. As the event host, you will take the lead on hosting the gathering and engaging your guests.
You will need to consider how you'll engage your guests during the meetup (e.g. icebreaker activities, conversation starters, etc.) as it can be more challenging to mingle in a virtual environment.
In order to ensure an alumni UBC staff member can be online with you for the duration of your gathering, there may be some restrictions around when you can host your meetup.
Can I charge my guests to attend in-person meetups? 
No. My Town Meetup hosts are not permitted to ask guests to pay to attend their meetup, or collect any money from the guests. Since most in-person meetups will be held at public venues such as restaurants, guests will be asked to pay for their own food and drink. Make sure your chosen venue, and your server on Event Day, is aware that each guest will be paying their bill separately.
What should I do to prepare for my meetup? 
We realize that not everyone is a seasoned event host, so we've prepared a My Town Meetups Planning Timeline for you to refer to as you make arrangements for your gathering.
How will my gathering be promoted? 
To support your event, alumni UBC will:
List all My Town Meetups on the My Town Meetups page.
Email alumni in your region to notify them of an upcoming MTM and encourage them to register.
Whenever possible, include details about My Town Meetups in alumni UBC's bi-weekly e-newsletters, with a link to the list of meetups so alumni can see if there are any upcoming meetups for their location.
Post your event on alumni UBC's social media channels. We also encourage you to use your own social media channels to promote your MTM and get people talking about it!
How can I manage RSVPs and communicate with my guests? 
Due to strict privacy legislation in British Columbia, alumni UBC is not permitted to share alumni contact information with My Town Meetup hosts. However, alumni UBC can manage registration on your behalf, and provide hosts with weekly RSVP updates and a final list of confirmed guests (includes first and last name, and UBC Degree) once registration closes.
Can I still be involved even if I don't host a My Town Meetup? 
Yes! Check out the list of meetups to find gatherings you can attend in your area.