If you'd like host a My Town Meetup to get to know fellow UBC alumni in your location, you've come to the right place. Just select a date and time, pick a venue, decide who you want to invite – and alumni UBC will do the rest! Here are a few things you should know before you complete the Host Application Form below.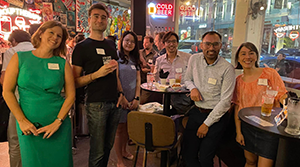 The My Town Meetups program is specifically for alumni who live outside of the Vancouver/Lower Mainland area and Central Okanagan. The further away you are from UBC campuses, the harder it can be to meet fellow alumni!
My Town Meetups can be hosted at any public venue (restaurant, coffee shop, park) and provide an informal way for alumni to gather over food and drink.
If you already know alumni in your location, it can be fun to co-host a meetup!
To keep logistics simple, and ensure meetups are accessible to all, guests cover their own costs.
When you select your venue and make your reservation, make sure you are not responsible for a minimum spend for your group. Also, please do not pay a deposit to reserve your space.
alumni UBC will promote your meetup for you, manage registration, send reminder emails, and mail you a small package of event supplies.
My Town Meetups can also be hosted virtually, using Zoom.
Ideally, please submit your form at least 6 weeks before the proposed date for your meetup.
If you'd like more information, you can check out our Frequently Asked Questions and Planning Timeline pages.
Special opportunity
My Town Meetups – Homecoming Edition
Host a meetup during the week of UBC Homecoming (September 16-23, 2023), and we'll send you a UBC t-shirt as a special thank you for bringing alumni in your region together to celebrate UBC. In order to be part of Homecoming, sign up to host no later than Friday, July 28!
Questions about My Town Meetups?
Still have questions? Contact the My Town Meetups team by email.
---
UBC alumni live in more than 162 countries across the globe. Here is a summary of where our alumni are located:
Canada – 266,121
USA – 13,346
Asia – 10,550
Europe & the UK – 3,367
Middle East & Africa – 969
Oceania – 951
Latin America & the Caribbean – 902
---